Take part in the SHS Hunting Chat Forum Contest and WIN!
I am proud to announce that we hold our very first forum members contest. The contest topic is, Hunting, Fishing or Outdoor Adventure. The idea is simple, write a story which can be true, fiction or humorous, as long it has to do with hunting and, or fishing. The contest begins on November 01. 2001 and ends midnight on November 30. 2006.
Here are some suggestions what you can write about. Your first hunt, a special memory connected with hunting or fishing, a humorous camp fire tale, what it is like to live with a hunter (if you are the non hunting spouse of a hunter). Or write about the biggest buck the longest fish you harvested. An exiting trip or a trip where Murphy's Law was a constant companion and many more subjects, what ever you think is worth telling others about.
Every registered member of the SHS forum in entitled to take part in this contest. This is a good time to tell your friends and family about this contest too, because, in addition every new member registering between November 01. 2006 and November 29. 2006 is also eligible to take part in this contest.
Here comes the best part of this contest. Courtesy of Heirloom Custom Turkey Calls we have some fantastic prices to give away.
1st Price:
A set of two custom made turkey friction calls, one cherry with stained glass and one mahogany with a inlaid picture. These calls come in their own custom built case made from mahogany and maple that opens like a book to reveal the calls.
Retail price: $125.00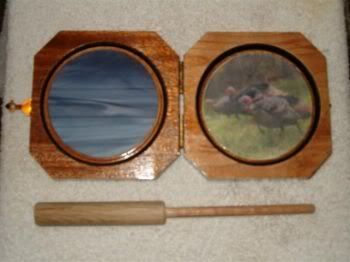 (Here is a small teaser of the 1st price. Heirloom Turkey Calls are not only pices of art but they bring gobblers in too!)
2nd Price:
A single custom-built turkey friction call also from mahogany with a blue/grey stained glass and no case. The striker on this call is made from mahogany, maple and birch for a sweet, soft sound.
Retail Price: $50.00
3rd Price:
Is custom-built picture frame made from mahogany. It is basically a circle with a recess for the picture and glass, it sits in a holder that allows the center to be removed for viewing and then put back in. The holder is a square piece of mahogany as well.
Retail Price: $30.00
4th Price:
A camo hunting baseball cap printed with "Heirloom Turkey Calls" on it.
Retail Price: $8.00
Now these are no ordinary prizes, each item, except the camo hat, are unique and specially made for this contest, as such these items are destined to become in a very short time collector items. As is custom with Heirloom Calls, they are of the highest quality and craftsmanship. Each call is a hand-tuned piece of art. So don't delay and start writing your contest story today. To read the contest rules and other pertaining info or register as a member visit the
SHS Contest Forum
.
I am looking forward to read all you contest entries on the
SHS Hunting Chat Forum
.