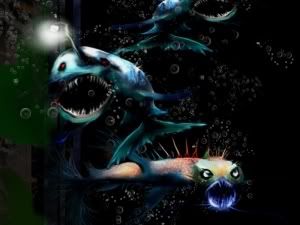 Be aware when deep sea fishing you may land one of these monsters.
This graphic is part of a mural
Artemis Graphics & Design
takes part in. Here is her description of the picture: "It's an anglerfish with a shark's body and a coelacanth with a head that was obviously inspired by the anglerfish."
Artemis Graphics & Design is a multi talented photographer, painter and graphic designer. Her styles span a wide variety of art styles form the surreal to the traditional as can bee seen by the picture above and the painting below of a tiger done in pencil.
Tags:
Art
,
Artemis
,
Graphic Design
,
Photography
,
Deepsea
,
Fishing
,
Tiger