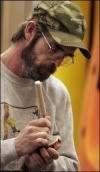 Brian Warner of
Heirloom Custom Turkey Calls
was kind enough to provide me with the latest update on what's happening in this still young company. It has been a very successful season so far for Heirloom. Brian tells me "Heirloom Turkey Calls are becoming pretty popular. To be honest, I cannot say how many I have sold but I know that it's over 150."
Knowing Brian Warner, a tireless searcher for improvements and new materials to create new and better turkey calls, I was not surprised to learn that he has come up with new calls. Heirloom's newest call additions to their extensive line up are: The Wafer Call which is a slim-line glass friction call that easily fits in your shirt pocket but don't be fooled by the small size. This call has the customarily big sound volume common to all Heirloom Calls. As reported in an earlier article about Heirloom calls, Brian's secret to achieving sound volume is in the sound chamber. What he does with the sound chamber is Brian's closely guarded secret that he shares with nobody, including his dedicated pro-staff members.
All the slate style friction calls are now delivered with two strikers, a wooden and carbon striker. Now that right there is customer service not offered by other call makers. The carbon striker is what makes a turkey call waterproof on rainy and misty days, which are often the best times to hunt turkeys. Also a newer call in the lineup is the "Pass it On" wooden box friction call. And then there is still Brian Warner's unique service of customized calls. These calls make beautiful presents for a friend, family member, or to honor a very special turkey trophy. Simply choose a picture of a special person or feather of a trophy turkey and send it to Brian and he will work it into the surface of the call. This service only works with glass calls.
Avid pro turkey hunter Dr. Zane Cofield who has been fortunate enough to field-test some of the Heirloom Calls expresses how well Heirloom Custom Turkey Calls worked for him. "I am winding down this turkey season having hunted Florida, Alabama, South Carolina, North Carolina, Virginia, and my home State, New York. I cannot stress enough the advantage of having professionally made calls; production calls are a dime a dozen and with the calling and hunting pressure we have today, especially on public lands, a good custom-made call or two can make a world of difference."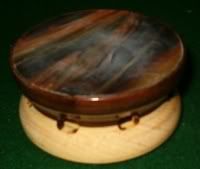 This spring season Dr. Coefield exclusively used The Double Barrel Call, Brian's newest creation. This is a call that, as the name suggests, can be used on both sides. Each side has a different tone quality. The pots are made from different woods to achieve a different sound quality and appearance. The surface is made of glass and/or slate. As of this writing Brian is experimenting with copper surfaces. He says, "Copper has been chosen as the preferred metal surface due to its sound qualities. For generations bells were made from copper for that very reason."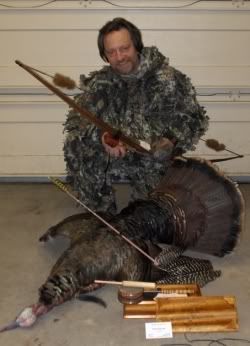 Dr. Coefield's spring season turkey harvest look impressive. He called and shot 13 gobblers with a shotgun and traditional bow in 6 different states. He credits part of his success directly to the Heirloom Custom Turkey Calls. "My grateful thanks are extended to Brian Warner for making a big difference in my turkey seasons. If you have not seen his calls, look for them."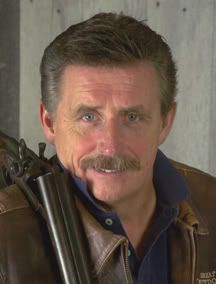 Producing new calls and enjoying a successful first business year with over 150 calls sold during the spring turkey season alone and having a high profile turkey hunter crediting his success to Heirloom calls are not the only good news. It seems that the professional hunting sources are catching on to the calls too. Early this year
Jim Ferguson
, a noted outdoor personality and radio-show-host invited Brian for an interview on his
Great American Outdoor Trails Radio
show. Jim Ferguson was very impressed with the quality and looks of the Heirloom Custom Turkey Calls. Jim subsequently invited Brian to attend more shows and joined the Heirloom Pro-Staff Team. The Great American Outdoor Trails Radio show is a nationally syndicated program with over two million regular listeners nationwide.
As a proud Heirloom pro staff member of the first hour, I am extremely happy about our success. I am confidently looking forward to the future of Heirloom Custom Turkey Calls- a company that I can represent without any reservations. It has become rare in these hard, business driven times to find a company like Heirloom which still believes strongly in providing hunters with a quality product that will last forever, or to quote Dr. Coefield: "For men like me, there is a certain inner pleasure of catching forty pound salmon on a 90-year-old bamboo rod, fly-fishing for mahi-mahi off the coast of Bimini using a two-pound tippet, and calling in wily old turkeys with a call that is not only woods-worthy, but is also a piece of true art, made by a true artisan of the forest."
Read more about Heirloom Turkey Calls
here>
Tags:
Turkey Calls
,
Turkey Hunting
,
Game Calls
,
Jim Ferguson
,
Radio Show
,
Heirloom Custom Turkey Calls
,
Brian Warner
,
Othmar Vohringer
,
Great American Outdoor Trails