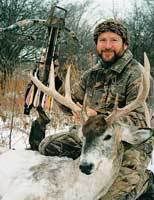 (Picture) Bill Troubridge, president of
Excalibur Crossbows
took this unusual color-phase Canadian whitetail with a crossbow.
With the archery hunting season only two to three months away - Is it already that time of year again? - the crossbow v. bow controversy is about to flare up again. How I
personally
feel about the crossbow becoming an integral part of the general archery season is made abundantly clear in my article; "
Where I stand on Crossbows
".
From the beginning many states permitted crossbows only for disabled hunters. But in recent years this has changed as many states, like Canada years before, made the crossbow a legal hunting weapon for all hunters. While some states designated a special crossbow season others included the crossbow in the normal archery season, as it should be in my humble opinion.
So far the crossbow is legal for all hunters, not only disabled, in 9 states. Some states permit crossbow hunting all season long, including archery season. Some states permit the crossbow in the firearm season. While other states included the crossbow in the general archery season, of which Tennessee is the latest state to do so. Like it or not, in the next few years we will see more states following the trend and make crossbows a legal hunting weapon for all hunters.
How do you feel about the crossbow? In the right hand panel I have set up a poll. Should crossbows be legal during archery season? Let me know and vote now!
Tags:
Crossbow
,
Archery
,
Bowhunting
,
Bow Hunting Season