For days the weather forecast talked about heavy rainfall over the
Canada Day
long weekend. Lucky for us it turned out that the weather forecast had it all wrong. The weather was befitting of the glorious celebration of our Nations birthday. Which was just as well. Because we have planned days ahead a BBQ for Saturday afternoon in honor of my wife's birthday, she has a twin brother that makes it a double birthday. Add to this my wife's sister having her birthday two days later and it becomes a triple celebration. Canada Day and three birthdays all rolled into one. If that is not a sound reason to hold a huge BBQ then I do not know what is.
On Sunday morning we headed out to the
Malcolm Knapp UBC Research Forest
.
If you have been reading this blog for a while then you know that we live in a very rural area. It does not take a long drive to be in the wilderness. The UBC Research Forest is basically right around the corner from our house. How wild is it? Well, if you enter the forest by the main gate, the first you see is two large signs. One warns you that this forest is home to a healthy black bear population. The other sign will tell you to be aware of cougars that roam the area. My wife armed with the camera and me with a sturdy walking stick for walking and moral support in case of a bear encounter we hiked into the forest.
Rather then boring you with a word description of our Sunday hike in one of BC most beautiful wilderness areas near a suburban setting, I have decided to let photos tell the story.
A view over a flowering meadow. The background is made up of the
Golden Ears Mountains.
Looking out the car widow on the short drive to the park–my wife drives while I sit next to her scanning the countryside for deer and other critters – I shouted, "Honey Deer, Deeeerrr". Turns out, after looking trough my binoculars and my wife trough the viewfinder of her camera, these are no deer. At dawn browsing in the pasture where no deer but llamas. My wife stopped the car and took this nice picture of my "deer".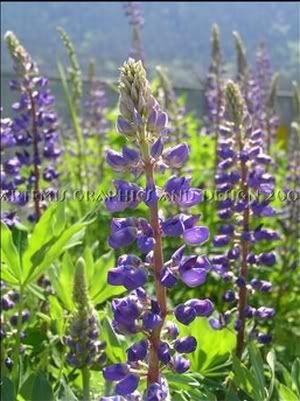 Lupines
are a typical wildflower of British Columbia…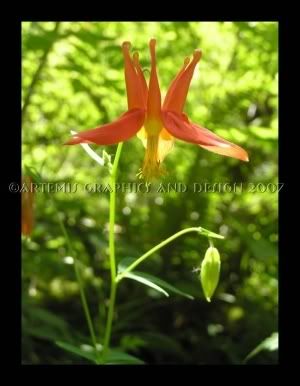 …the
Columbine Flower
is not a native of British Columbia but grows very well and just about be admired everywhere in the wild and in gardens. Columbines come in many different forms and colors. This sub species and color is the most common here in our area.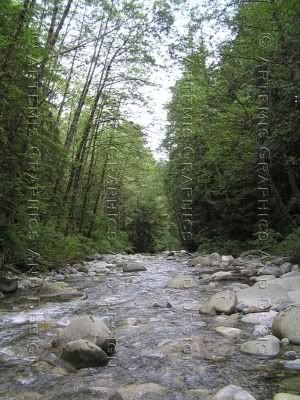 The
Allouette River
is feed mostly by melt water from the mountains and flows trough the lower mainland of British Columbia. The river is well known by local fisherman for holding trophy sized trout and salmon.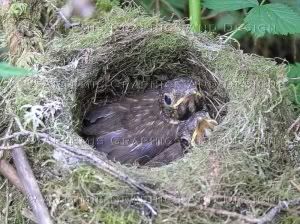 Our heart almost stopped when right in front of a bird jumped off and fell to the ground, mimicking an injury. Obviously this was a ploy to lure a suspected predator away from her nest. In the dense bush this nest was built only about four feet of the ground. My wife couldn't let the opportunity pass without taking two pictures. I have no idea what kind of birds these are. The mother did not stay around long enough to make a positive identification. We heard her high up in a tree making a racket, obviously upset about the rude intrusion on her home. We quickly and quietly left the scene so she can get back to her nest and tend to the offspring.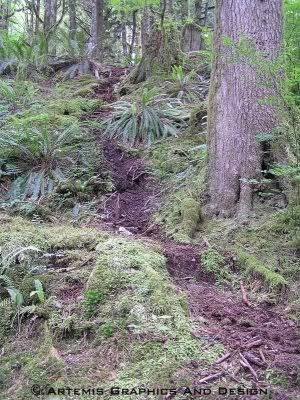 Now that is what every hunter likes to see! This massive and well worn deer trail lead up a steep ridge, all the tracks in it where made a day or two ago. Judging from the many smaller tracks, this is a trail the does and fawns use. Following the trail up the hillside I found out why the deer all move up that steep ridge. The semi open ridge top was literally overgrown with Salmonberries and blueberry bushes. Seeing this deer trail and a lot of other deer sign made a fitting end to a beautiful Canada Day trip in the countryside. The only bad thing is, you can't hunt in UBC Research Forest.
Come to think of it, it's only a few short months until deer hunting season opens. Time to write an article about early deer scouting for the
Whitetail Deer Passion
Blog and to get ready for the early fall seminars. If you would like me to attend you event as seminar speaker please feel free to contact me for more information on bookings and seminar topics.
Pictures courtesy of:
Artemis Graphics & Design
Tags:
Canada day
,
British Columbia
,
Photography
,
UBC
,
Wildlife
,
Wildflowers
,
Nature
,
Deer Trails
,
Scouting
,
Hunting+Seminars