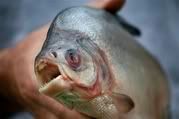 N.C. fisherman reels in a piranha
A fisherman looking to catch a catfish for dinner instead reeled in a fish that flashed its teeth and bit his knife. Jerry Melton, 46, was fishing in the Catawba River last week when he caught what state wildlife officials later identified as a piranha, a South American carnivorous fish that lives in freshwater.
"When I got it on the bank I didn't really know what it was; I hadn't seen anything like it before," Melton said.
Read more>>
Cowboy trooper lassos, rescues deer
All Jim Collom had left to do was pick up a guitar and sing as he rode off into the sunset.
Collom, an Oregon State Police trooper, turned cowboy Saturday by lassoing and rescuing a black-tailed deer that fell into an abandoned mine shaft outside of Jacksonville.
With the help of Arild Barrett and his two sons, Collom was able to toss his makeshift lariat around the buck's velvet antlers and haul the deer out of the 20-foot-deep shaft.
Read more>>
Deer shakes up video shoppers
He might have wanted a copy of the Deer Hunter or a buck refund, but whatever it was, a deer who walked into Roger's Video Saturday afternoon got more than he bargained for.
The deer was spotted strolling around Caulfield Village in West Vancouver at 2:13 p.m. when he sauntered through the open front doors of the video store on Headland Drive.
He soon realized the buck stops here when he couldn't find his way back outside, scaring not only himself but the customers in the shop.
Read more>>
Tags:
News
,
Fishing
,
Wildlife
,
Fisherman
,
Piranha
,
North Carolina
,
Cowboy
,
Lasso
,
Deer
,
Vancouver
,
Video Store