© By Othmar Vohringer
Today I would like to share with you two proud moments in my hunting career. As most of you are maybe aware by now, a good part of my time is dedicated to the introduction of young and new hunters into our way of life.
This is Terri Lynne Benoit, sister of noted outdoor writer
Toby Benoit
. She took part in the junior division of the Florida State Turkey Calling Championship hosted by the
National Wild Turkey Federation
and
Bass Pro Shops
in Orlando, Fl. She made it to the second place.
You can read the full story about Terri on
Wild Turkey Fever
>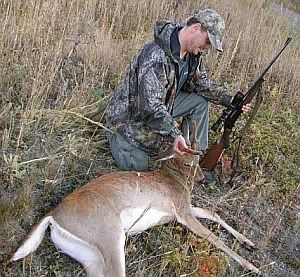 Corey, one of the many novice hunters that I have "Godfathered" over the years, sent this picture to me. He tells me what a proud moment it was when he harvested his very first mule deer buck. Well, I am mighty proud of him too. The only regret I have is that I could not have been on his side and share this moment with him personally.
Read the full story about Corey on
Whitetail Deer Passion
>
To read more about the SHS Othmar Vohringer commitment in "Passing the Heritage On" and take part in a lively online hunter community join the
SHS Hunting Chat Forum
and take part in the discussions and experience exchange with hunters from all over North America.
Tags:
Hunting Heritage
,
Novice Hunters
,
Turkey Calling Contest
,
Florida
,
Bass Pro Shop
,
National Wild Turkey Federation
,
Mule Deer Hunt
,
Whitetail Deer Passion
,
Wild Turkey Fever