© By Othmar Vohringer
I love to read a good book, even more so if the book is about hunting, in the coziness of my home office, sitting in a comfortable chair next to the fireplace. To me this is about as relaxing as it gets.
The last two days I found three books that are just perfect to improve your hunting success this coming hunting season.
The first book is written by fellow blogger Steven Kendus
Hunting The First State
A Guide to Delaware Hunting
By
Steven Kendus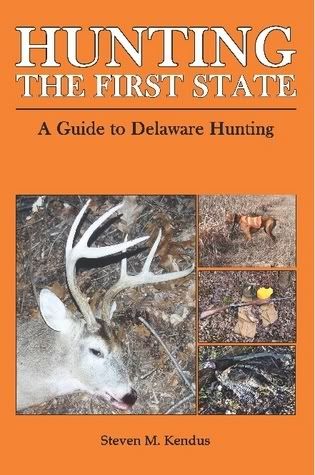 Perfectly situated on the eastern seaboard between the Chesapeake Bay to the west and the Delaware River, Delaware Bay, and Atlantic Ocean to the east, Delaware has proven to be a hunting paradise for local sportsmen. For centuries, outdoorsmen and outdoorswomen have harvested the natural riches offered by the wild game that inhabit Delaware's deciduous forests, salt and freshwater marshes, and cultivated crop fields. Common game, such as white-tailed deer, Canada geese, and varied species of ducks have been targeted by the majority of Delaware hunters, but woodcock, quail, snow geese, crows, squirrels, and rabbits are also plentiful in Delaware and provide Delaware sportsmen with hours of hunting enjoyment each season. Join Delawarean Steven Kendus as he uses his hunting wisdom, experience, and research to preserve Delaware's hunting legacy by sharing important history, tactics, locations, tips, and tricks associated with Delaware hunting.
Knowing what a savvy hunter Steven Kendus is I am sure that his tips tricks and strategies have applications in other states and areas, other than Delaware, too.
The next book is one that every experienced and aspiring hunter should own.
Mapping Trophy Bucks
Using Topographic Maps to Find Deer
By Brad Herndon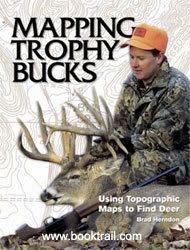 I have often said in my deer hunting seminars, and will keep saying it until the day I die, that the key to successful deer hunting is studying and knowing the structure of the land. This is especially so on hard hunted public land. Deer travel from fod source to bedding - or to escape hunting pressure – by utilizing the lay of the land and so do the trophy bucks when they chase does.
On 192 pages of Mapping Trophy Bucks author Brad Herndon teaches you how to use topographical maps and wind directions to pinpoint deer travel routes and to place your stands in advance of the deer season. This is likely the best $24.95 a hunter ever will spend.
You can read more about these books on
Whitetail Deer Passion
(my other blog)
And finally a turkey hunting book that is right up my alley.
I am a self confessed turkey hunting addict with that said it is obvious that I not only hunt turkeys in the traditional spring season but also in the fall and winter, or as I call it
The Forgotten Season
. It is with turkey hunting enthusiasm that I am announcing today the publishing of a new book.
Fall and Winter Turkey Hunting Handbook
By
Steve Hickoff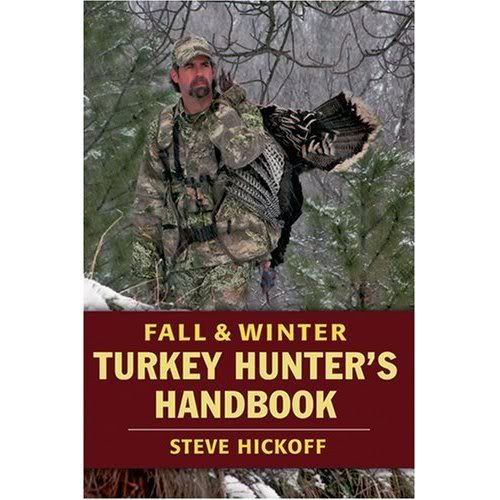 For the sportsman who thrills at the booming gobble of a spring tom during mating season and wants to extend that exhilarating feeling, Steve Hickoffs Fall and Winter Turkey Hunters Handbook offers the perfect remedy. The fall and winter season not only allows a wider variety of hunting options than the spring, but it also requires different hunting tactics and skills. Hickoff examines fall turkey behavior and vocalizations and provides details on locating, scouting, and calling fall gobblers, with tips for mapping flock patterns and identifying changing flock composition. Includes the little-known strategy of hunting turkeys with dogs, using them to find and flush flocks. The material on firearms, ammunition, and archery tackle will benefit all turkey hunters--fall, winter, or spring.
You can read more about these books on
Wild Turkey Fever
(my other blog)
Tags:
Fall Turkey Hunting
,
Turkey Hunting Book
,
Steve Hickoff
,
Fall and Winter Turkey Hunting Book
,
Hunting Books
,
Hunting The First State
,
Mapping Trophy Books
,
Steven Kendus
,
Brad Herndon
,
Deer+Hunting
If you're interested to learn more about my SHS Hunting Seminars and Clinics schedule, for more information or booking queries
contact
me.
Read my Product Review Policy