© By Othmar Vohringer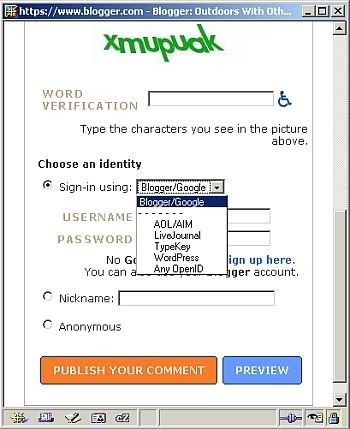 As regular readers of this and other blogs hosted by
Blogger
have experienced in the last few days, there was a problem to post comments.
Google
, the owners of Blogger, removed the feature "Anonymous" that enabled readers that have no account with Blogger to leave comments on our blogs. The only way that readers without a Blogger account could comment on the blog was by signing up for a Blogger account. Needless to say that only diehard fans of a particular blog would go to such extreme length.
It seems Google realized that problem and I am happy to announce that they fixed the problem by adding a feature (Choose an identity:) – see image at the top – that lets you chose:
1. AOL/AIM
2. LiveJournal
3. TypeKey
4. WordPress
5. Any Other ID
In addition the option "Anonymous" is back again.
I hope that this new feature will fix the problem many of you had and look forward to your comments on my articles and posts. Comments on blogs are a wonderful feature for two reasons.
One of the reasons is that a comment or honest critique is like a pad on the back of the writer. There is nothing more disheartening for a blog writer than not knowing if what he has to say appeals to the readers or still worse if anybody even reads what he/she writes.
The other reason, and for me the important one, is that comments give the writer a very good idea of what the visitors like to read on a particular blog. In my opinion it is this immediate response that gives us blog writers the opportunity to actually have a relationship with our readers that is absent in any other writing media.
So now that it seems for the time being –you never know with Blogger and Google what they think of next – that everything is back in order lets get busy and comment away.
Tags:
Blog
,
Blogger
,
Blog Comments
,
Google
,
Outdoor Blog
,
Outdoors with Othmar Vohringer