© By Othmar Vohringer
Toronto is Canada's capitol of street gangs and drug wars that claimed yesterday their latest innocent victim,
Hou Chang Mao
is the second bystander that was killed in a random shooting this week and the third homicide victim in the new year in the city.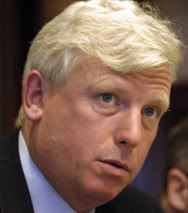 This cowardly homicide carried out by common criminals (known to the police) is for the city's Major David Miller (picture on the left) another moment to renew his call for a
total gun ban
in Toronto and Canada. Miller has become the front man for the anti-gun lobby in Canada but if it suits him, or his political career, he will take part in a photo opportunity with
gang rappers
that carry a pro-gun message. The Toronto Mayor has a lot of support in his gun ban war from the liberal anti-gun lobby and the leaders of the liberal party and the NDP.
Jack Layton
, leader of the NDP (New Democratic Party of Canada) is a front runner for the anti-gun lobby, he turns up in Toronto as soon as gang violence claims another innocent victim to promote his total gun ban agenda standing on the crime scene surounded by stunned bystanders.
What Layton, Miller and other assorted anti-gun advocates never mention is the fact that Canada has a very effective firearm control law and firearm registry in place and that handguns are banned since the early 1930's. In Canada handguns can only be owned by people that underwent an extensive criminal background check ( to be repeated and re-valued every four years) and successfully completed a firearm safety course. Canadian firearm owners also subject to random house vists (chck ups) by the police and have to provide personal relationship and financial information upon request by the authoritis. What the anti-gun lobby also forgets to mention, and for good reason, is the fact that a handgun ban would only affect the two and something million legal gun owners in Canada and not the street gangs and criminals.
Statistics Canada
reveals that only 2% of the guns used in violent crimes are registered firearms. This means that 98% of gun crimes are committed with illegal handguns obtained on the black market. Conveniently the anti-gun lobby and the supporting politicians such as Mayor Miller and Jack Layton, among others, also never tell the scared, confused and grieving people of Toronto that in countries, such as England, Australia and Germany where they have a total gun ban violent gun crime has sharply risen. In fact the only people that have guns in these countries are the criminals. The same is true in New York, Chicago and other American cities were a total gun ban exists.
What makes me really angry is that the liberal anti gun fanatics oppose and successfully prevent the Harper minority government from singing Bill C-10 into effect. Bill C-10 provides stiffer and longer sentences for gun related crimes and would provide no bail for firearm related crimes (statistics have shown that over 90% of criminals disappear ones they are freed on bail). The liberal morons that are so gung-ho on banning guns are complaining that Bill C-10 is reaching to far and that the sentences are to high. Layton even had the nerve to state in public that Bill C-10 is too harsh on criminals and violets human rights. How harsh would be a total gun ban on the millions of law abiding Canadian firearm owners? What about our human rights not to be discriminated against and publicly condemned as part of a criminal problem? Sadly, it's nothing new that liberals are more concerend with the welfare and rights of criminals rather than with the safety and freedoms of law abiding Canadians.
To me it makes a lot more sense to come down hard on street gangs and other assorted criminals, than to punish law abiding citizens. I have said it before and I will say it again. There is something inherently wrong with a justice system when crime victims leave a courthouse crying and feel victimized all over again by the courts while the criminals leave courts laughing as free man. For as long as our morally corrupt judges, lawyers and liberal-bleeding-hearts-politicians continue with their soft approach in dealing with hardened career criminals and assign them more rights than the crime victims it only will get worse on the streets of Toronto and other large cities.
The solution to the gang and drug violence on the streets of our cities is simple. Get the scum of the streets and punish them severely. Send criminals a clear message that each action has an equal counter action and that they will be held fully accountable without any but and if. Give the police the means to hold this lowlifes behind bars for as long as it takes without the hope of bail. Replace soft judges with hard core judges that are not afraid to slam the law books hard on the head of criminals. Pay more attention to the crime victims and their sense of justice and less to the criminals.
Perhaps it is time to start writing letters to these liberals and let them know how we feel about the insults leveld at us and being made into scapegoats for a problem that is not of our doing and has nothing to do with legal firearm ownership.
Tags:
Gun Violence
,
Street Gangs
,
Drive-by-shooting
,
Gun Ban
,
Bill C-10