© By Othmar Vohringer
…Quite a bit! As you have noticed in the past week or so, I have been mostly absent from my blogs. There are several reasons for that, which I will briefly explain to you.
First, that cursed flu still has an iron grip on me and wears me down a bit. But mostly I have been busy over the last few days with upgrading my blogs. So far this blog and the
Wild Turkey Fever
blog are finished. I upgraded the blogs mostly because I got tired of the untidy side bar, it just didn't look professional enough to me. The other reason is that I want all my blogs to have the exact same layout except for the main banners.
I also wanted a blog index were readers can find categorized information. The new upgrade gives me that tool and from now on readers can find all the information available on this blog of their choice with one single click on a link. You can find that feature further down in the right panel.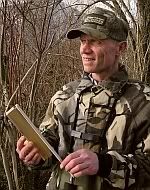 The lion share of the time is consumed with preparations for up coming turkey hunting seminars. Here in British Columbia turkey hunting is still in its infantsy –the third season is soon coming - and just really started to catch on with the hunters. Understandably the thirst for turkey hunting knowledge is big here.
I get daily emails from hunters in that regard. It is this interest from the BC hunters that I came up with the idea to organize a special 1 ½ to 2-hour seminar in which I cover every turkey hunting topic from safety to field care. In addition the seminar participates will learn in five minutes to produce the two most basic and most effective turkey sounds with a slate type call and a box call. The seminars are concluded with a question and answer session, which has become a tradition on all of my seminars. This has been such a huge success that I now find myself inundated with requests from all over the province to appear with this special seminar.
The organization of such events takes a lot of time and effort, hence the lack of my appearance here on this blog. But boy is it great to help other hunters succeeding in something I am passionate about. Finally I can give back to the people that welcomed me with open arms when I moved to British Columbia.
Tags:
Turkey Hunting Seminars
,
Othmar Vohringer
,
British Columbia