© By Othmar Vohringer

An hour before daylight my boat glided silently under paddle power over the mirror like surface of Nicola Lake toward the first of several pre-prepared duck blinds I set up a few days earlier. The nightly scene with the stars glistening on the water's surface, the thin layer of fog on the lake and the barely audible sound of the paddles being pushed in the water was reminiscent of the setting from
Richard Wagner's
opera "Die Walküre" (The Valkyrie). There is a scene in the famous German composer's opera where the heroine of Nordic myth crosses the River Rhine in a Viking battle boat in the middle of the night.
I'm sure that I thought of the similarities because of my father who was very fond of Wagner's operas, not to mention an avid hunter- I'm certain I could feel his presence very clearly the moment I arrived at the lake and throughout the morning of my duck hunt.
As I wrote in
All ducks lined up and ready to rumble
I had gone to great lengths to prepare for the waterfowl hunting season. One of the reasons why I had prepared so well is because I wanted it to be a special hunt. A hunt my father, and mother too, would be proud of.
My father hunted many animals but if given the choice he would go waterfowl hunting. He was actually something of an expert and often gave other hunters advice on shotguns, hunting tactics and calling.
Whenever he would go out to the duck marsh I followed him whenever I could. There were times when I skipped school just to be with him and, interestingly enough, these were the only times my father would look at me and ask, "skipped school today?" and then smile. At no other time he would put up with such nonsense from me. As an adult I would spend time in the duck hunting blind with my father whenever I had time and so, waterfowl hunting became something very special and I never had another duck hunting partner in my life.
Ironically, shortly before my father passed away we shared our last hunt but it was not in the duck marsh but rather out hunting rabbits. At that time my father was greatly weakened from illness and had stopped going out to the marsh. That was 19 years ago and since then I have tried to hunt ducks alone, but it was such an emotionally painful experience that I never tried it again. Then about a year ago I found myself thinking about hunting waterfowl again and was surprised to realize that although I had to think about my father it was not painful anymore. Perhaps I could now venture out to the marsh again, on my own.
This led up to the preparations I described in "All ducks lined up and ready to rumble". When I got up in the morning I still was not sure how I would feel and then arriving on the lake I got a bit sentimental and even shed some tears. Once on the water heading toward the first set up I felt amazingly calm and relaxed, I even smiled in anticipation of what laid ahead.
Arriving at my set up I immediately began setting up the decoys and then headed the boat around the corner of the cove where the approaching ducks would not be able to see it. Heavily hunted ducks soon will get very suspicious the moment they spot a boat on the water or close to shore. Once the boat was hidden and covered with reeds I took all the gear I needed out and walked the short distance to the blind.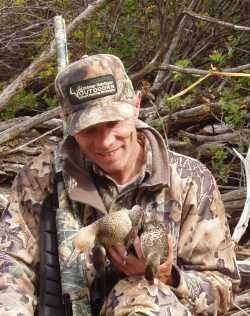 Once there I just had time for a quick hot coffee, getting the gun loaded and adding a few more cattails to the blind. Sitting on a comfortable folding chair with duck calls hung around my neck and gun at my side, I was ready for action. It was just in time too. Looking to the east I could see the first silver lining of daylight. Any minute now and the ducks would start coming to feed on the marsh. I was about to put a duck call in my mouth when I remembered what my father taught me. "Never call ducks until you can see them. If they're coming to you wait until they are over the decoys. If it looks like that they can't make up their minds start with feeding chatter to coax them to land. If they try to fly away use 'come back' calls. But if the ducks attempt to land in the decoys don't call at all, pick the gun up and get ready to shoot."
Right at that moment I heard the familiar faint whistling sound ducks make with their wings when they fly. Looking up I saw a gaggle of Green-Winged Teals* heading my way. By the time these fast flying little birds arrived at the decoys I had the gun up and pointed at the duck leading the gaggle. I knew the decoys were exactly 30 yards from the blind. The gun barked loud in the quiet young day and the lead duck tumbled out of the sky.
It was my first duck in over 19 years and it felt good. "Did you see that dad?" I heard myself mumbling as I waded out to retrieve the bird. An hour passed and no more ducks came in. News most have gotten around that this spot was not safe. Time to pack up and head to the next spot. This spot on the lake was in the middle of a huge bed of reeds. It was the perfect sanctuary for waterfowl. I had scouted the location over at Google Earth and noticed a narrow path leading through the reeds to the open center and so, the previous week I had cut that path wider to make it passable for the boat and then closed the entrance again with reeds amd cattails to camouflage it from other hunters.
Silently I pulled the boat along the channel by grabbing reed stalks and pulling on them. The channel was so narrow that I could not use the paddles. I could smell the stench of duck droppings long before I arrived.
The end of the path opened up into a good-sized clearing in the reeds where hundreds of ducks had come to hide from the hunters. Upon my arrival the ducks took off everywhere complaining loudly at my intrusion. As soon as they had all flown out of sight I began setting up the decoys. Another trick I learned from my father: "Never ever set decoys out when the ducks can see you. If only one bird is seeing you setting up fake ducks he will go and tell the others."
Once I had the boat in position I covered the boat completely with reeds and cattails that I had pre-cut at the other location. Then I laid a blanket of reeds and cattails over me leaving a hole just big enough to get the gun out. The waiting game began and an hour later the first ducks, a flock of Northern Pintails*, returned. I have heard it often said that Pintails make better table fare than mallards. Again the bead of my gun found its mark on the lead duck then swung ahead and the gun went off. Another duck fell out of the sky.
Despite all the practice I still have to learn to follow a flying target more quickly. After the first duck I was not fast enough to reload and follow the next one before the birds were out of shooting range. Still, after 19 years I had two ducks in the boat and was more than happy with the result. I enjoyed this hunt more than any other. Perhaps with the exception of the first buck I shot with bow and arrow. I am now back to waterfowl hunting and I can do so without experiencing sadness and loss. I miss my father and I always will, just like I miss my mother but now I am a waterfowl hunter that can enjoy the hunt and carry the heritage that has been passed on to me by my father. For this special occasion I dedicated the two ducks with a silent prayer to my father and mother.
On the way home I phoned up my wife to tell her about my waterfowl success and she was thrilled about it. I think deep down in her heart she felt how much that particular hunt meant to me. I am looking forward to many more waterfowl hunts yet to come.
For those interested in equipment here is what I used:
Lowe L 1436 Jon Boat without a motor
Mossberg 535 ATS Waterfowl 12 gauge 3 ½ magnum shotgun
Federal Premium Ultra-Shok 3" #3 steel ammunition.
Advantage and ASAT camouflage.
LaCross boots and hip waders.
Flambeau duck decoys, 6 drakes and 6 hens single rigged.
Knight & Hale and Primos duck calls.
(*) Both ducks are eclipse hens for those who are not familiar with ducks. An eclipse duck is a bird that has changed its summer plumage (molted) to winter plumage. An eclipse drake has similar plumage to a hen. Duck hens "eclipse" too but their appearance is not as dramatically different as an eclipsed drake.
Tags:
Waterfowl Hunting
,
Nicola Lake Duck Hunt
,
Ducks
,
Green-Winged Teal
,
Northern Pintail
,
Mossberg Shotgun
,
ASAT Camouflage
,
Atvantage Camouflage
,
TEXT
,
Duck Calls
,
Knight&Hale
,
Primos
,
LaCross Boots
,
Federal Ammunition