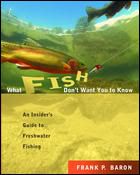 What Fish Don't Want You to Know
An Insider's Guide to Freshwater Fishing
By Frank P. Baron
About the Author
:
Frank P. Baron
is a veteran angler, from Ontario, Canada, with a degree in journalism and forty years of fishing experience, both as a hobby and professionally. He has authored many articles for Newspapers and Fishing Magazines. His writings are as informative as they are entertaining to read.
About the Book
:
What Fish Don't Want You to Know
An Insider's Guide to Freshwater Fishing
Paperback
: 176 pages
Publisher
: International Marine/Raged Mountain Press.
ISBN
: 0071417141
Available at all bookstores and over the Internet by
amazon.com
Book Review
:
Whenever I get a new book I read the back cover first to get an idea what the literature is all about. It was right then when the book captivated me and made me eager to read what's between the covers. How can you not burst with anticipation if you read a paragraph like:
Don't Tell Whoppers--Catch 'Em!

Anyone can toss a line into the water and get lucky once in a while, but if you want to catch more and bigger fish, and have more fun doing it, you need to learn What Fish Don't Want You to Know. Whether you're new to fishing or an accomplished angler, this comprehensive and entertaining guide will improve your chances every time you cast a line into fresh water.


And that is exactly what the book is all about. What Fish Don't Want You to Know refers to the fact that many fishers neglect to learn about the habits of fish and how fish use the underwater structure of their habitat to move around, rest and feed. To be a successful fisher it is imperative to know about fish and their habitat and what influences their behavior. If such knowledge is missing, fishing success has to depend entirely on luck alone.

The book is written in an easy to understand and follow language with many photos, graphics and drawings to compliment the text and aid in the understanding of what is said. I am particularly pleased with the fact that What Fish Don't Want You to Know is not yet another book written by a fishing expert in the style of "Look here what big fish I can catch!". In other words, Frank P. Baron, called respectfully the "Fish Whisperer", does not use the book to show off his success. In the book he stands back and lets his wealth of knowledge and solid tactics for catching every thing from bass to trout to salmon speak. The author uses his forty years of angling "secrets" to show the reader the best and most successful ways to fish rivers, streams, ponds and lakes as well as how to change tactics as the seasons change and what to do if the fish are really stubborn and won't take any bait or lure offerings.

Another fact I appreciate in reading What Fish Don't Want You to Know is that the book is not only filled from cover to cover with fishing wisdom and common sense but that the information is written with the typical Canadian subtle humor that makes you smile and at times even laugh. There are surly not many books on the subject of making you a better fisherman while at the same time are so entertaining that it keeps you reading on until you come to the last page, only to find yourself wanting to read the book again from the beginning. Between all this wisdom and fishing savvy we read short and entertaining fish stories, advice on lure presentation and basic fishing gear, and much more helpful tips and tricks that turn luck into assured certainty of catching fish.

Do I recommend this book for reading? You bet! In fact I will go as far as to say that What Fish Don't Want You to Know should be in every fisherman's (or woman's) bookshelf, regardless of weather or not you are an experienced veteran or a beginning novice, this book is the one fishing guide we have been waiting for and you don't want to 'let it get away'. Frank Baron has certainly refreshed my knowledge on the subject and I've even learned some new tricks from reading this book and I would definitely call it 'a keeper'!

Tags: Books , Fish , Writing