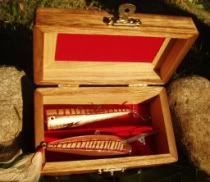 Just over a year ago I met Brian Warner on the
Ohio Camp Cook Forum
. Brian has been an enthusiastic hunter and fisherman for all of his life, or at least as far back as he can remember. He tells me that as a child he would use hand-me-down rods and reels to fish. That sounds familiar. I guess most hunters and fishermen started out that way. Brian also discovered his passion for wood carving and that is where this story begins.
From childhood onward Brian was used to fixing up his own fishing gear or in his own words: 'put together some contraption to be able to fish". That way he learned to fix or make himself what he needed. Now lets make a big leap in time and go fast-forward to the year 2005. While Brian recovered from a lengthy illness he had to stay home and his hunting was limited to three times for the entire season and only for an hour or two at the most. In order to release some of the frustration he picked up a pocket knife and a chunk of wood and he started to carve until his first fishing lure emerged.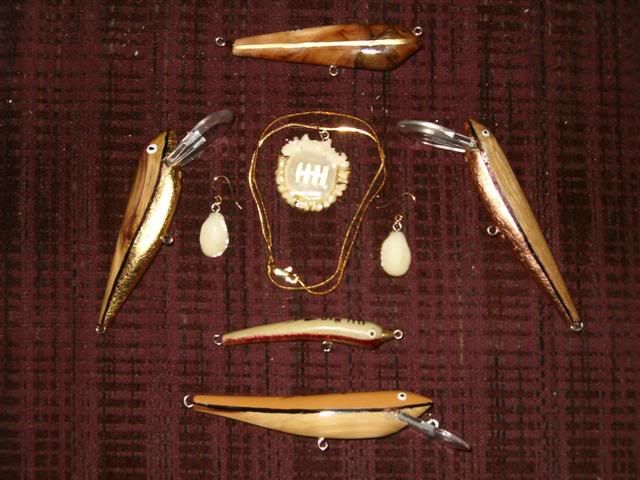 A young friend of Brian's suggested that he should carve some more lures and take them fishing. Brian went to work right away. Having made the first handful of fishing lures Brian took pictures and showed them off at the Ohio Camp Cook forum and that is where I have seen what Brian is able to do with a pocketknife and a chunk of wood. I was simply amazed and so were all the other forum members. We cheered and encouraged him to make more lures. Some members, including myself, ordered custom made lures by Brian. It didn't take long and the first "trophy" pictures appeared on the forum of members who caught fish with his lures. The message was out – Brian Warner's hand carved lures do catch fish- and lots of them!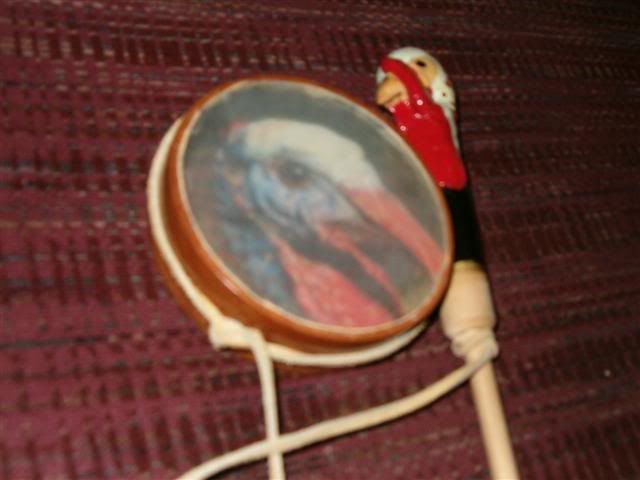 From here on Brian Warner got inventive with his lure carving. Soon new and better looking lures appeared in the "catalogue". Brian said, "Next thing I know, I'm making lures with gold leaf, sterling silver leaf, experimenting with different woods and shapes." For Brian, also an avid turkey and duck hunter, the next logical step was to try his carving hand on turkey and duck calls. In recent weeks Brian has carved a few prototype turkey and duck calls. Brian is modest about his craft and calls his efforts "nice looking". I call it terrific looking. There is very little doubt in my mind that Brian's game calls and fish lures will become collector items in a very short time, perhaps even heirlooms. All the lures and calls are custom made and personalized.
Asking Brian what he likes about wood carving he answered: "Working with wood has always been a fun thing for me to do. In school I was good at it and I got to use my hands. I could see what I was making as I worked. Watch it come along until it was what I wanted it to become." He likes wood because he can see the carving in the wood grain and the texture. He told me, when I asked why he uses wood and not other, more modern, materials, "The lure or game call head is there in the wood, all you have to do is find it, and let it shine through." But there is more to it for Brian; carving his own game calls and fishing lures is part of the hunting and fishing heritage. Before big companies began to manufacture these items outdoorsmen would carve their own lures and game calls. "In a way, what I do is relive a little history and share it with others. The game calls are about the same thing. A game call is a musical instrument. The wood, the shape even the finishes all play a part in the music it plays. Like a guitar, the wood sounds better than it's plastic counterpart." I could not agree more with that statement.
Just as I was about to finish this article Brian informed me that he had come up with an idea for a deer grunt call. Knowing Brian I am sure that the idea soon will become a reality. I am looking forward to seeing many more of his lures and game call creations and like I said, not only do they look good and unique but they actually work. It's not surprising to me in a way, a man like Brian dedicated to the outdoors armed with a keen knowledge gained from many years of experience simply knows what works. Gifted with talent he turns what works into art too- it can't get any better than that.
You can see more of Brians fishing lures and game calls
here
.
If you would like more information on Brian's fishing lures and game calls or have your own personalized ones made please
email
him.