With the upcoming hunting season fast approaching how about a little teaser to get you even more exited?
The Boone and Crockett Club
just released the new entries to their trophy record book.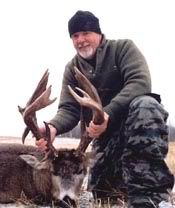 The trophy buck that peaked my interest right away was the monster buck taken in Alberta, Canada. This very unusual buck was taken by Scott Reeves last fall in Alberta. While only pushing the 11-1/2 inch mark in greatest spread, this deer has 25-inch main beams and reportedly scores in the 186-range as a non-typical! What a weird looking buck. In this case it was the antler mass that gave him a 186-point ranking. Truly a unique trophy. Alberta is known all over North America for its trophy sized whitetail deer. Another fine Canadian Province I have earmarked in my calendar for an upcoming hunting trip in the future.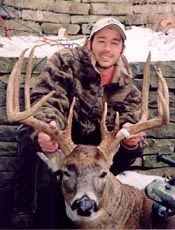 The next buck I show you has been taken in my old hunting grounds of Illinois. Having lived in that deer hunter paradise for 10 years I know how big these corn fed deer can grow. Illinois consistently produces trophy deer every year. Dave Voorhees arrowed this all-time records book giant, scoring 170 B&C, on December 23rd. He was also able to get great velvet footage of it earlier in the year, as well as video of the hunt. This great 5x6 has over 6-inch bases! The Voorhees buck was taken in Peoria County, not far from where I use to live. I think I will go back there one of these days. Man, I am "home sick" now.
Tags:
Trophy Bucks
,
Whitetail Deer