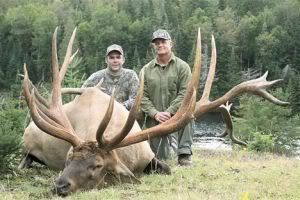 In my last posting I wrote about the buzz flying around the internet of several bull elks been taken that may be destined to become the new world record.
As it happens with rumors if given time the truth will surface. At least in one case the truth has surfaced sooner than expected.
For quite a while now there has been a rumor that a trophy world class bull elk has been taken in the Selway-Bitterroot Wilderness of North Central Idaho with a bow. The elk scored, so the rumor, at 575 inches (green score) and should net out at about 530 nontypical. That would make it the biggest bull elk ever taken with any kind of weapon.
The bull in the photo apparently is real. The story that comes with it isn't.
Mark Hatfield, one of the official scorekeepers with Boone and Crockett Club in Missoula, said the elk came from a fenced game farm in Canada.
Tony Barber, manager and guide at Laurentian Wildlife Estate near Arundel, Quebec, confirmed the elk came from his private reserve.
Read more
here
.
------------------------------
Discuss this and many other Hunting and Fishing related topics at.
SHS HUNTING CHAT
"The Serious Hunting Forum for the Serious Outdoor Enthusiast!"