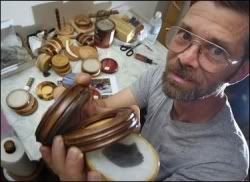 Some of my loyal readers surely remember the article
Meet Brian Warner
I wrote back in July of this year. I wrote about the outstanding fishing lures Brian carves out of wood. I also wrote that Brian is experimenting with turkey calls.
Well, I just posted an article over on my
Wild Turkey Fever Blog
about Brian's Heirloom Custom Turkey Calls. I had the privilege to field test his calls and I must say without flattering that these are quite possible the very best calls I ever used. The sound is real, so real that even a big old tom can't tell the difference. Not only do these calls sound good they look good too. Brian is a very creative mind. He loves woodworking and is a veteran turkey hunter. It is these qualities combined that lead to a quality product.
Well, why don't you hop quick over to Wild Turkey Fever and read for yourself what the recent exitement about
Heirloom Custom Turkey Calls
is all about. If you're an avid turkey hunter looking for that special turkey call, this it!