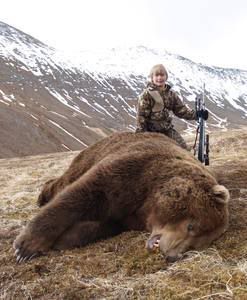 The 10 year old Fern Spaulding-Rivers from Talkeetna, Alaska is no stranger to trophy hunting. Her list of hunting accomplishments is impressive she has harvested already most of Alaska's game species. United States Game Fish and Wildlife Service measured the bear's hide at 11'4. The bear's skull scored 29 1/16" Boone and Crockett points.
Fern is a very dedicated hunter and not afraid to shoot larger caliber rifles like the Remington 700 Stainless chambered in .375 H&H, and she also is an avid handloading expert as well. For this hunt she used a customized rifle with a muzzle brake and recoil pad plus she wears a special custom made padded shooting vest to help her withstand the heavy recoil.
I like to read reports like this. It warms my heart and makes me feel good about the future of our hunting legacy.
You can read the full story
here
.
Tags:
Brown Bear
,
Bear Hunting
,
Hunting Records
,
Trophy Hunting