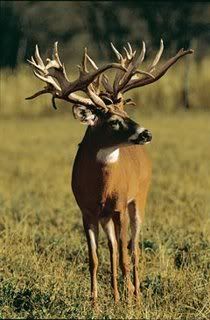 Rex Howell at the
Deer Camp Blog
posted several times a picture of a very large buck that peaked my curiosity each time I saw that monster buck, thinking to myself; "I wonder where that brut comes from and what is the story behind it. Well, after some searching on the Internet I finally found the story to go with the image.
The buck, called High Roller, is not a wild buck. He is born and raised on a Deer farm in Ohio by his owner. High Roller has 44 points and scores 367 B&C points. This makes him the biggest antlered whitetail in the world.
The full
story
of this monster buck makes for very interesting reading.
Tags:
High Roller
,
Trophy Buck
,
Ohio
,
Boone & Crockett Club
,
Blog