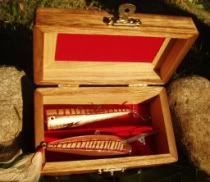 On July 20, 2006 I wrote a
review
of Brian Warner fishing lure carver extraordinaire. So far Brian's hand carved fishing lures have been an insider tip in the fishing community, but this is about to change. Yesterday Brian sent me the following email.
Dear Brian,

I've read with great interest an article written by Othmar Vohringer about your hand made lures. I produce a TV program out of Akron "

The Buckeye Angler

" and would very much like to talk with you about being on our show. I believe that it would generate a lot of interest. Let me know if this is something you would be interested in.

Gary Kiser
It is usually is not my custom to publish emails that are sent to me, but this is special. I am very happy for Brian Warner that he gets the opportunity and recognition he deserves for his fishing lures. Brian I one of this rare people who produces products that not only look great to look at but also work, be that his fishing lures or
turkey friction calls
. Brian's dedication to detail in his craft combined with his extraordinary fishing and hunting knowledge makes this combination of looks and field proven results possible.
Congratulations Brian you deserve this break, I am glad that my review played a small part in this. A review I could not have written the way I did if I would not have been absolutely convinced of your products quality. I have been lucky to field test your fishing lures and your turkey calls and found that they do work as well as they look.
Tags:
Brian Warner
,
Fishing Lures
,
TV Show
,
Buckeye Angler
,
Fishing