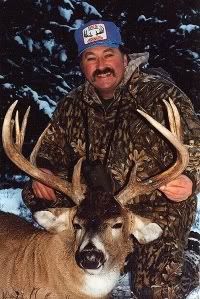 …affectionately called "America's Whitetail Deer Hunter" owns and operates BKS Productions, one of the largest hunting production companies in America. With more than 42 full-featured video titles under the belt Roger Raglin remains the key figure in all of his videos. The recipe of his success is quit simple. Good wholesome entertainment that the entire family can watch; ethical and safe hunting practices; clean kill scenes; broadcast quality camera work; top professional production value. But just as important there is Roger himself. His never tiring enthusiasm and energy, the honest joy he shares with his viewers are not Hollywood faked, they a real.
I have watched many videos of Roger Raglin – in fact I have a big library of videos form BKS - and I never get tired watching them and there is always something new and exiting going on. Aside from these qualities, what I appreciate most is that Rogers's videos are not reduced to mere infomercial that seem to be so common today with many hunting videos. In fact you will be hard pressed to see any advertising in the video until the very end.
What I also like, is that Roger has not fallen victim to the current fashion of being all humble and almost sorry for harvesting a deer. The enthusiasm, drive and excitement that Roger delivers on camera is truly contagious. His patented, "Jiminy Christmas" saying is loved and repeated by the many thousands who have followed BKS tapes over the years. Roger's humor is natural, his devotion to the sport of hunting is genuine and his knowledge and expertise as an outdoorsman and hunter are exemplary.
Roger backs his video success up with his hunting success as one of America's most prolific hunters. His accomplishments with bow, rifle and black powder are astounding. Over 100 whitetail bucks scoring 130 B&C or better; 62 bucks scoring over 140 and 25 scoring over 160. He holds over 180 different SCI trophy records, 8 whitetail slams, 3 bow slams and more. Roger secret to this success is his wealth of hunting knowledge that freely passes on in his hunting videos. In addition to the line of videos Roger offers his own line of field proven and tested deer attractant scent and game calls.
Hunting Products are:
Whitetail Maniac 150 - interdigital gland mixture with doe urine
Whitetail Maniac 155 - tarsal gland mixture with doe urine
Whitetail Maniac Down & Dirty cover up scent
Whitetail Maniac Buck Mud - pre-orbital gland mixture
Whitetail Maniac Penetrator Buck Call
Whitetail Maniac Hands Free Buck Call/Doe Call
Whitetail Maniac Deer Killer Kits - Buck or Doe
You can purchase Roger Raglin's BKS videos in many outdoor sports stores such as Cabela's and Bass Pro Shop or direct on his website where you can find more information about
America's Whitetail Deer Hunter Roger Raglin
.