The regular readers of Outdoors with Othmar Vohringer may remember my article about
Western Canada's largest Hunting Show
. I anticipated writing a review of the show, but then a chain of events happened on that show that is far more interesting to report about it.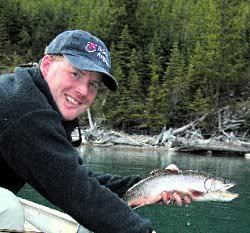 My wife, an avid photographer, accompanied me to the outdoor show to hunt for photographic subjects. As we meandered trough the various exhibits my wife spotted a fly tying demonstration by no other than
Phil Rowley
noted Canadian writer, fly fishing authority and pro staff member of
Superfly
. Never having seen a fly tier in action my wife was immediately fascinated by the subject, both from a photographic point of view and as an art form. She asked Phil Rowley if she could take some close-up pictures as he worked on his demonstration of tying a weighted mayfly pattern. Phil graciously gave his permission and then the gentleman he is patiently held positions when my wife had to get the camera lens very close to the subject to get a macro shot of Phil's work.
To get good results in photography it is necessary to take many pictures from different angles and with different camera settings. While standing a bit on the sidelines I admired the friendly patience of Phil while having a camera "shoved in his face" and enjoyed the fact that my wife, a non-hunter and fisher, obviously has a great time. It made me a very happy man to see my wife full of joy as Phil gave her the fly he just tied as a present before we left his boot.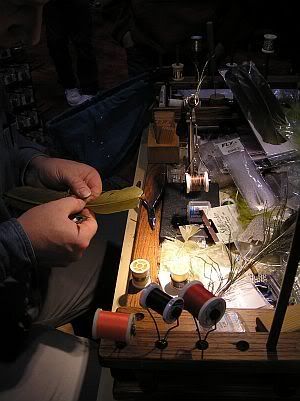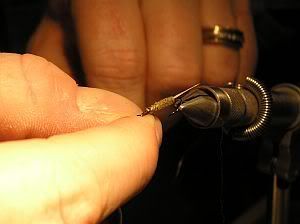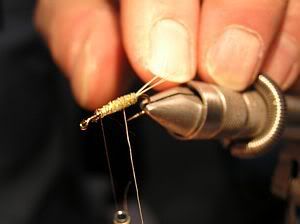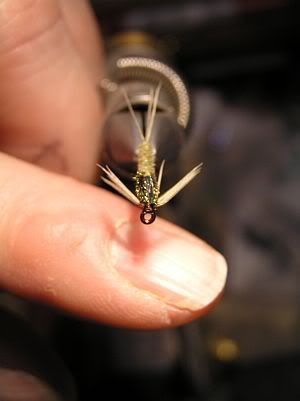 Fly tying photos courtesy of:
Artemis Graphics & Design
The next day I searched the intenet for more information about fly tying and fishing. It was then that I came across the name Rick Passek from
The Fledgling Flyfisher
. He posted a review of the Show on his outstanding Flyfishing blog. Rick's profile states that he is from British Columbia, like myself, and so I just had to write him an email stating that I visited the same show. Rick kindly replayed to my email, saying that he not only visited the show the same day my wife and I did but actually visited the same boot at the very same time my wife photographed Phil Rowley's fry tying craft presentation. But that is not all, Rick lives in a neighboring town to my home town, talk about coincidences.
Rick Passek offers fly-fishing classes and guided trips for
trout, salmon and sturgeon fishing
. In addition he just finished writing his first book on tactics and tips for the beginning fly fisher with the title "Fledgling Flyfisher" due out in mid March.
Tags:
Phil Rowley
,
Rick Passek
,
Flyfishing
,
Fly Tying
,
Blog