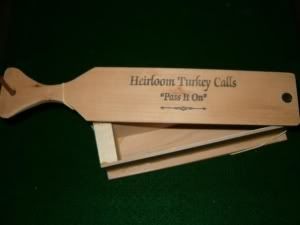 Just in time for the spring turkey season
Heirloom Custom Turkey Calls
has introduced a new friction box call. Brian Warner added the call to his existing line of slate type friction calls. After months of thinking, planning and testing he came up with yet another jewel for avid turkey hunters. Brian is not your ordinary turkey call maker. He started making his own calls because he never could find a call that came close to of what it should sound like and that could keep up with his demands on craftsmanship.
Lucky for us avid turkey hunters Brian is an expert on wood working and very knowledgeable about the sound properties of different woods. Add to this his equal expertise on turkey behavior and vocalization and what you get is a perfect sounding high quality turkey call. I am absolutely sold on the Heirloom slate and class friction turkey calls and now I can look forward to field test the box call.
Brian tells me.
I use a variety of woods. Oak, maple, pecan, cedar, alder, and cherry to list a few. I try to make each box so that caulk is an optional item. To me nothing can mess a hunter up worse than having a string go squeaky or having to stop and re-caulk in the middle of working a gobbler. The boxes are tuned to sound great with out the caulk so that when you do caulk them they just get better. After tuning and when they are up to par, only then will I sign my name to them. If I won't hunt with them, neither will you.



That right there is a typical Brian Warner statement and he means it too. Is it a wonder why I, without hesitation, answered the call to join his pro-staff team? I too will put my name and reputation only behind a product or company of whose quality and integrity I am absolutely convinced.
Brian Warner also carves amazing eye and fish catching
lures
.
Tags:
Custom Turkey Calls
,
Box Call
,
Slate Call
,
Turkey Hunting
,
Heirloom
,
Brian Warner
,
Pro-Staff