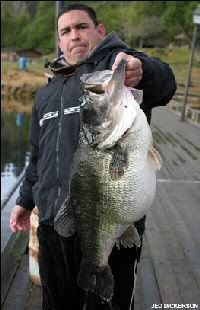 CARLSBAD, Calif. — "Chaos has broken out."
Well, what do you expect when you notify the media that you boated a potential world-record bass?
That was the story at the home of Mac Weakley, who early this morning caught a mammoth largemouth on tiny Dixon Lake in southern California that he and his longtime fishing partners Mike Winn and Jed Dickerson weighed out at 25.1 pounds on a hand-held digital scale.
If that weight stands up it would shatter what is considered to be the granddaddy of angling records — the 22¼-pound largemouth bass taken in 1932 at Georgia's Montgomery Lake by George Washington Perry.
"I feel good, awesome, in fact," said Weakley, 32, of Carlsbad, Calif, who used a white jig with a skirt and rattle on 15-pound line to boat the brute. "I'm just stoked to see a fish that big."
Claimed by many to be a mark that could never be eclipsed, the largemouth-bass record has become the thing of legends. It's the Joe DiMaggio 56-game hitting streak of the angling world.
"It's simply because there are people who are out there who didn't think a bass can grow to more than 22.25 pounds," said James Hall, editor of Bassmaster magazine. "It's because of how elusive the record has been for so many years."
Fortunately for the naysayers, the fish was documented by anglers with impressive resumes — Weakley and Dickerson each already are officially recognized for boating top-15 bass of all-time at Dixon Lake — and they claim to have witnesses, photo evidence of the catch and video documentation of today's behemoth on the scale.
"There is no smoke and mirrors," Hall said.
Dickerson believes the 25.1-pounder is the exact same fish that vaulted him to the No. 4 spot on The Bassmaster Top 25 list when he caught her on a swimbait May 31, 2003, at Dixon Lake — a drop-in-the-bucket, 72-acre impoundment in San Diego County. He knows this because she has the same distinguishing black beauty mark under her right gill plate. Back then she weighed 21.7 pounds, and quite clearly she still is a big fish in a small lake.
"It's the same fish I caught three years ago," said Dickerson, 33, a casino-industry employee from Oceanside, Calif. "I knew this was a world record before we even weighed it. It's the biggest, most ferocious bass in that lake, guaranteed."
Read the full story at
ESPN
Picture courtesy of Marc Weakley
Tags:
Bass Tournament
,
Trophy Bass
,
Marc Weakley
,
Bassmasters
,
California
,
Fishing
,
Carlsbad
,
Montgomery Lake
,
Largemouth Bass