© By Othmar Vohringer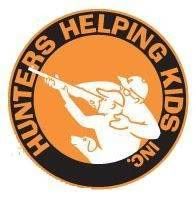 Recently I had the opportunity to conduct the following interview with Mr. Richard Worden, Sponsorships Chairman on the National Board of Directors of Hunters Helping Kids inc. and Chapter President of Hunters Helping Kids inc. – Northern New York Chapter.
Hunter Helping Kids Inc. is a very unique organization in that they are dedicated to make it possible for every child to take part in our heritage and provide them with the ultimate hunting experience. So far the HHK has provided hunts and other hunting related events for over 400 children. Prior to each hunting event, the kids are schooled in gun and hunting safety. The goal of the HHK is to inform, inspire and encourage the kids in wildlife conservation, preservation and safety.
Here to tell us a little more about Hunter Helping Kids Inc. and how hunters across the nation can get involved is Mr. Richard Worden.
Othmar Vohringer
First of all I would like to thank you for agreeing to this interview and congratulations to you and all the other Hunters Helping Kids, Inc. volunteers for what your organization does to recruit more and new hunters and with that, furthering the continuance of our outdoor heritage into the next generation. As most of us know, hunters are very important to the wildlife and habitat conservation efforts of the DNR's and Wildlife conservation organizations. Without hunters it would at best be very difficult to maintain the high standard of our wildlife and habitat conservation, the result of which can be enjoyed by not only hunters but all outdoor enthusiasts.
To start with would you be kind enough to explain in more detail what the Hunters Helping Kids is all about?
Richard Worden
First would be our Mission statement.
Hunters Helping Kids, Inc. (HHK) is a non-profit 501c3 organization dedicated to inspiring and educating our youth in wildlife conservation and management. It is our belief that by involving our youth in outdoor shooting sports, the desire to preserve the conservation and hunting heritage will endure through future generations.
Our goal is a simple one. HHK wants to make it possible for any kid to hunt, or visit mother nature's classroom by helping to provide experienced guides and excellent locations to make a kid's dream come true. Just ask any of our kids... our events are second to none.
By forming chapters across the nation led by sportsmen and sportswomen, these talented and giving individuals donate their time and experience to help our mission to take kids hunting and on outdoor activities.
Prior to each hunting event the kids are schooled in gun and hunting safety, our number one priority. Our goal is to inform, inspire and encourage the kids in wildlife conservation, preservation and safety. For each hunt and outdoor activity, family members are encouraged to attend and to participate in each kid's achievement during the these events, allowing wonderful memories and fellowship to be created by the experience
All of our chapters share the same criteria and goals with a great deal of compassion.
O.V.
From earlier communications with you I learned that the HHK does much more than just providing children with a hunting opportunity. You also provide the children with many different workshops related to hunting and the outdoors.
This seems to be quite an eventful time for the children. How many days does a child spend at an HHK organized event?
R.W.
HHK offers seminars on shooting rifle and bow, trapping, hunting and fishing techniques with safety and conservation a top priority. We take kids on tours such as maple syrup processing, fish hatcheries and taxidermy demonstrations.
As for our annual Ultimate Kids Hunt, it is a three-day event, Turkey hunt is a two day event. Fishing trips, workshops and shoots for the most part are a one day event.
O.V.
One of the more obvious and important questions would be: are the parents or older siblings of the children invited too? Or is it strictly the children? And what is the minimum and maximum age of a child to be eligible to take part in a HHK hunting event?
R.W.
Parents and family members are always invited to all events. As for the age group we mostly work with: it varies from ten to fifteen years old which is a good starting point to expose them to mother nature's class room. It is our feeling that by the time a child reaches sixteen they seem to wander off in different directions which in many cases is on the wrong side of the law. However we do and have included kids as old as nineteen and we try our best to work with handicapped youth that would really like to participate in events.
O.V.
How and on what criteria if any does the HHK choose a child and how can interested people apply for a hunt with your organization?
R.W.
The Ultimate Kids Hunt has entry forms that are made available from our websites. One of my duties as a national director is to post this event on several hunt related web sites making the entry available to kids across the country.
The national board of directors meets the first week in August where five girls and five boys names are drawn from different states. We draw entries from this and it is done by a law enforcement officer. As to the numbers of kids drawn we quite often have cases where we accept more then ten.
Example in 2007 we had a young man from Florida who won the hunt. He was notified of his win and at that time he stated he hunts quite regularly with his dad and he would like to give his win to a close friend that has never had the opportunity to hunt. With that kind gesture the directors decided to have both young men participate in the hunt. The young man that was added is from a broken home and lives with his mother and funds being short, she didn't think they could afford the expense of the trip to NC. But the HHK directors decided to send a check for $200.00 to help offset the cost of their trip.
I have to add that among today's modern youth it was a very heart warming experience to see this touching offer from friend to friend. And to see the appreciation of the items they won is a tear jerking moment. Money cannot buy those moments. Priceless!
On a local chapter level event we use posters, newspapers, local hunt related news magazines, some radio and good old fashioned word of mouth works well.
One may call to pre-register for events offered, giving us an approximate number of participating kids and family members as to outfitting, feeding etc.
O.V.
The events offered by the HHK require not only a place to take the children hunting but also food, a camp and the material for all the other activities offered. Besides the huge organizational task such an event involves it also costs money. How does the money get raised and how can people donate? Do you accept donations such as material, food, and - last but not least - hunting opportunities through outfitters?
R.W.
Donations are definitely accepted whether it is goods, money, materials and hunts from outfitters as that is what allows HHK to fulfill our mission.
We do fund raising banquets/auctions, raffles, and sponsorships, and approach businesses.
Folks who would like to donate at the national level can contact:
President Chris Hatley @ highrockhunters@yahoo.com or call (704) 363-6663 or our
Director of operations Dale Dodson (336) 263-5959 or director Richard Worden
Hhk_nnychapter@frontiernet.net or call (315) 387-3497
Sponsorships applications are available on our websites.
Note, HHK has a

501/C3 nonprofit status

which means that all donations are tax deductible
For the folks that would like to donate to their closest chapter you may select a chapter by going to our website for their contact points.
O.V.
So far the HHK has Chapters in North Carolina, Michigan, New York and Virginia. One of the HHK aims is to set up chapters all across America. Are there plans to set up HHK Chapters in Canada too? How can hunters interested in setting up a chapter in their state or area go about it and what are the requirements?
R.W.
Yes if fact there is a meeting scheduled in Canada in the near future as to doing just that. At this time I not sure of the location.
As to setting up chapters please contact the National Director of Chapter Development
Dennis Campbell Waynesboro, VA Office: (540) 946-8447 Mobile: (540) 529-2202 you may also go to the website under directors and e-mail Dennis.
O.V.
To my knowledge the HHK only offers hunts to children; is the HHK considering providing fishing too in the future?
R.W.
Fishing? You bet! We have fishing trips, some being lake fishing also stream fishing with a camp out. And Ice fishing, too. In fact, I'll be working a kid's ice fishing event Feb. second and third on an inlet of Lake Ontario.
O.V.
To give our readers an idea of what a HHK hunting event looks like I would appreciate if you could provide us with a typical run down of an event.
R.W.
To be brief we set an arrival date and time followed by a reception where everyone gets acquainted. At some events where it requires them to be outfitted for a specific event, we outfit them and explain and take them to the event grounds. Meals are provided and lodging if necessary.
(Othmar Vohringer: To learn more about what a typical HHK kids hunting event looks like read Youth Spring Turkey Hunt 2007 Summary Report.)
O.V.
Thank you Mr. Richard Worden for the time and the opportunity you provided me so generously from your busy schedule to conduct this interesting, and for me important, interview.
As a hunter and fisher, and with my work through SHS, I am dedicated for many years to the promotion of our hunting heritage to our young generation and non-hunting community. As I said many times, in my opinion the promotion of hunting and the good it does for the wildlife has become more important than at any time before in history.
It is organizations like Hunters Helping Kids Inc. and the many dedicated volunteers giving freely of their time and effort that make a positive and much needed difference that benefits all of us in the hunting community.
-------------------
Hunters Helping Kids Inc. contacts:
For more information and how you can get involved visit the
HHK National Website
or
sponsorship information
For more Information and how you can get involved on the local level visit:
Northern New York
HHK Northern New York Website
North Carolina-Harnett County
HHK North Carolina Harnett County Website
To Donate contact:
HHK President Chris Hatley at
highrockhunters@yahoo.com
or call (704) 363-6663 or
Director of operations Dale Dodson (336) 263-5959 or
Director Richard Worden at
Hhk_nnychapter@frontiernet.net
or call (315) 387-3497
If you're interested in becoming a sponsor please visit the HHK website to download Sponsorships Applications Forms.
Tags:
The Outdoor Interview
,
Hunters Helping Kids
,
Hunting Heritage Conservation
,
Hunter Education
,
Hunting Camp