© By Othmar Vohringer
As many of you know I am a proud supporter of
Hunters Helping Kids, Inc
and had the privilege to make an
interview
with Richard Worden, the
New York Chapter
President of Hunters Helping Kids. Today I received a long awaited update on the activities of this outstanding organization that does so much to pass the hunting heritage on to our young generation.
Youth Turkey Hunt Weekend Summary



The Northern New York chapter of Hunters Helping Kids, Inc. held their 3rd annual Youth Turkey Hunt weekend event on April 26 & 27th, 2008.
Fifty youngsters between the ages of twelve thru fifteen registered for the event with fourteen hunters harvesting a turkey.

On Saturday the 26th, after the turkeys were weighed in and pictures taken, hot dogs and hamburgers were served at the Sandy Pond Sportsmen Association's Clubhouse to the youth hunters, their family and the callers. The Oswego County 4-H had their laser hunting game for the youth, which all enjoyed trying their luck. Also Katie Eastman gave a seminar, "The Life Cycle of a Turkey" which gave the young hunters some knowledge of the turkey.

On Sunday, back to the SPSA clubhouse again, there was weigh-in of the birds with pictures. Mr. Don Miller of Lakeside Taxidermy gave a demonstration of a full turkey mount, prior to a delicious roast beef dinner. Prizes were handed out to all the youth turkey hunters, even the younger kids were given something to take home. Dallas won the essay contest and won a Primo hunting blind. There were numerous door prizes given to the youth. Also the lucky successful hunter's name drawn was Ora and he won a full turkey mount from Lakeside Taxidermy in Fulton.

We were honored to have in attendance: NY State Senator Darrel Aubertine, Assemblyman Will Barclay, Oswego County Legislator of District I, Margret Kastler, NYS DEC officer Matt Harger, the new Pennsylvania HHK chapter, headed by Mr. & Mrs. Troy Miller and Mike Strickhouser with his daughter, Danielle, which was one of the successful youth turkey hunters plus Mr. Dale Dodson, National Director of Operations of Hunters Helping Kids who flew in from North Carolina to take part in the event.

A big THANK YOU goes out to the Sandy Pond Sportsmen's Assn, the many sponsors and all the volunteers that made this a big success.

Richard Worden
Chapter President

If you would like to donate to the Hunters Helping Kids, Inc. to continue their important work or would like to become a volunteer visit the
Hunters Helping Kids, Inc
. website.
Here are a few pictures from the event.
These are just some of the prizes donated for the event.
The participants of the youth turkey hunt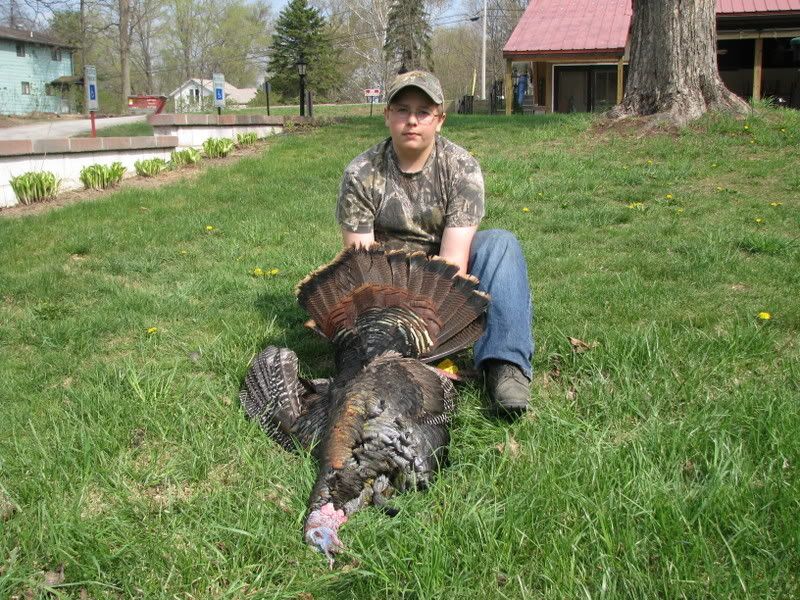 Oran is the winner of the full turkey mount from Lakeside Taxidermy.
Essay winner Dallas admires his prize, a ground blind from Primos.
New York State Senator Darrel Aubertine posed proudly with a young turkey hunter.
Happy faces of some lucky young tukey hunters.
All images are courtesy of Richard Worden