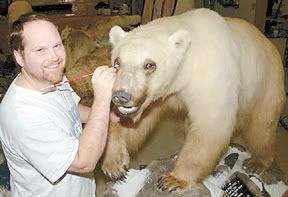 The, meanwhile famous, polar-grizzly crossbreed bear shot earlier last year is about to be put on display at a Safaris Club International show in Reno, Nevada, in January. Taxidermist Greg Robertson has just finished mounting the bear in time for the great event.
You can read my previous reports about this remarkable bear and the hunt right here on Outdoors with Othmar Vohringer
here
and
here
.
The full story on the taxidermist that had the privilege of mounting this ones in a lifetime trophy can be
read here
.