Rex Howell from
Deer Camp Blog
sent me an email with a link to
World of Whitetail
where he found some interesting pictures of "albino" moose. I am always interested in freaks of nature and so I had not to be asked twice to visit that website. There where seven pictures showing not albinos but white moose and a couple of pictures showing piebald moose.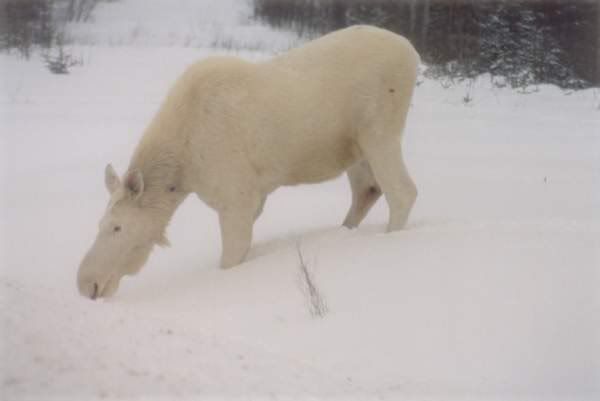 White animals are not that uncommon in nature, but not all white colored animals are albinos. Albinism is due to one of several gene mutations that affect the production of normal pigmentation. True albinos, or amelanistic, animals lack melanin and are white with no markings and with unpigmented pink eyes. In other words, albinos have the genes responsible for giving color pigmentation missing.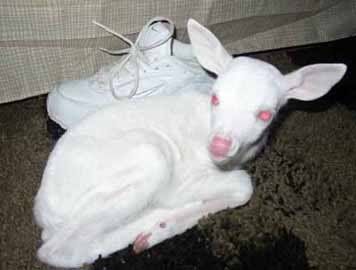 White animals – non-albinos: Leucism is similar to albinism and is often mistaken for albinism; leucistic animals are white with dark eyes and some pigmentation, for example ghost markings. White deer are often mistaken for albinos, but are caused by a different mutation called chinchilla, which affects the distribution of pigment on the hair shaft.
A piebald deer is like the white non-albino but with leucism defects, meaning that not all pigment cells are affected by leucism, resulting in a white base color with splotches of natural coloring. Piebald animals are more common than white colored animals and these are more common than the pure albino. True albinos are very rare and seldom grow to full adulthood.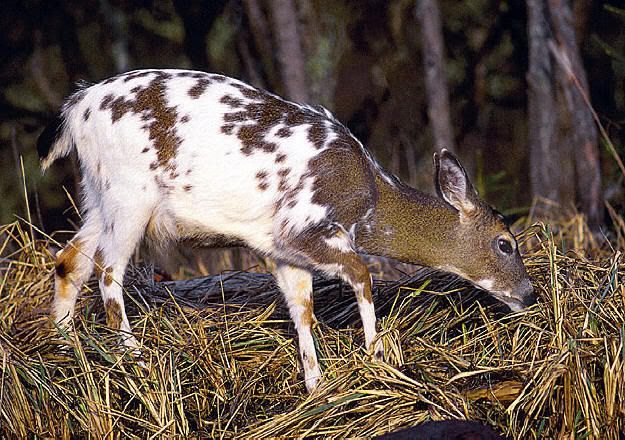 Tags:
White Deer
,
Albino
,
Piebald Deer
,
Moose
,
Mutations
,
Wildlife