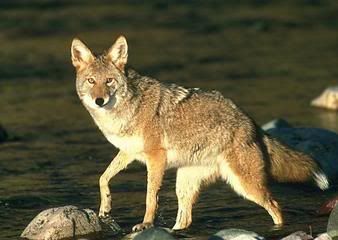 I just have been informed by
Skinny Moose
that NC looks forward to a new hunting opportunity. The state, according to Skinny Moose, experiences a coyote population explosion unknown before. Coyotes have expanded over the entire state of North Carolina into every single county.
Hunters are exited as they look forward to a new and surly welcome new game animal to extend the hunting season. Of course most hunters in the Old North State have to learn how to hunt the wily coyote. To help the hunters to understand how to hunt coyotes, explain basic techniques and strategies for the set up, calling and much more the Pisgah Center for Wildlife Education set up a seminar held on Saturday Feb. 17.
I am glad for the hunters of NC that they too have the opportunity to hunt coyotes. One little piece of advice from me to my fellow hunters in that state, coyote hunting can be addictive. Coyote hunting can be very challenging due to the coyote's exceptional sense of smell and eyesight, but also because coyotes are so smart. Proper set up and good camouflage is essential to be successful in harvesting this wily song dogs. Learning to use the proper calls and practicing for long shots on the range will give the hunter an a slight advantage too.
Update March 10, 2008.
I just learned about the
North Carolina Predator Hunter Association
. On their website and forum you can find more information about coyote hunting in that state.
Tags:
Coyote
,
North Carolina
,
Hunting Seminar
,
North Carolina Wildlife
,
Predator Hunting
,
North Carolina Predator Hunter Association