Today a friend sent me this picture sequence, showing a pride of wolves attacking a moose. The attached note said; "Wolf tag or no wolf tag, this wouldn't have happened if I would have been in that tree stand."
Somehow I am not surprised to read that comment. Many hunters get upset when they see pictures of wolves taking care of their dietary needs. I often wondered why that is so. I came to the conclusion that the only reason hunters do not like wolves must be because they are hunters too. Or in other words, some of us might view the wolf as direct hunting competitor. This thinking is in line with what some hunters told me, saying something like; "The wolf steals our game."
Of course it is utter nonsense that the wolf "steals our game". The animals we hunt are not our game. We share the game animals with other hunters, like the wolf, the coyote, grizzly bear and other predators that have as much right to hunt for food as we do. Together we are all part of natures check and balance system that has worked so well for millions of years and hopefully will continue to work well for all of us, humans and animals alike.
The wolves found a cow moose (probably an old weak animal). The two wolves chase the moose to tire her out.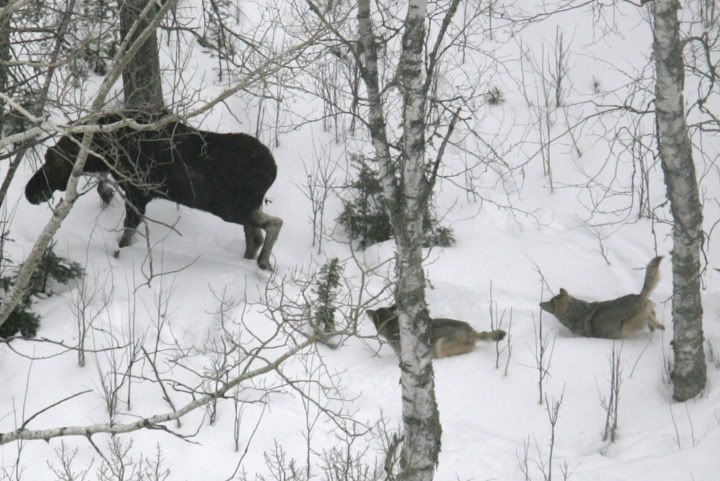 The two wolves are soon to be joined my other pride members that circle the moose and make an escape impossible. The fate of the moose is sealed, would that moose be a fully grown bull he would have a good chance to break loose from the deadly circle.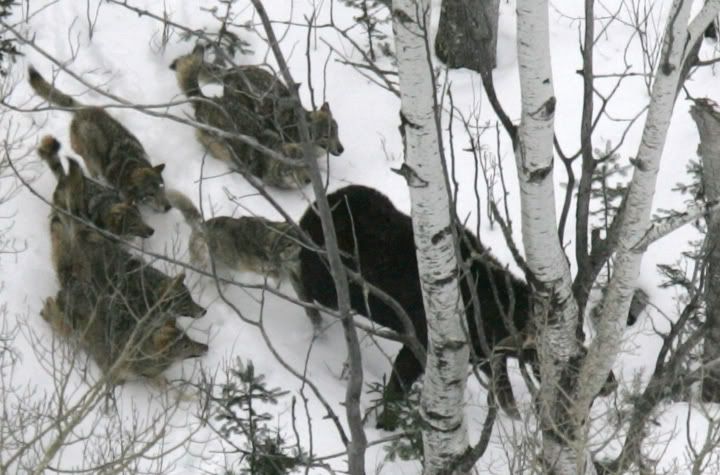 The older and experienced wolves are the ones that do the killing by holding the prey animal mouth and nose closed (suffocating) while other wolves bite the animal in the neck. For us humans this is a gruesome death. However, research has clearly shown that animals have a much higher pain tolerance than humans, plus the prey animal is in shock at this stage and feels no or very little pain.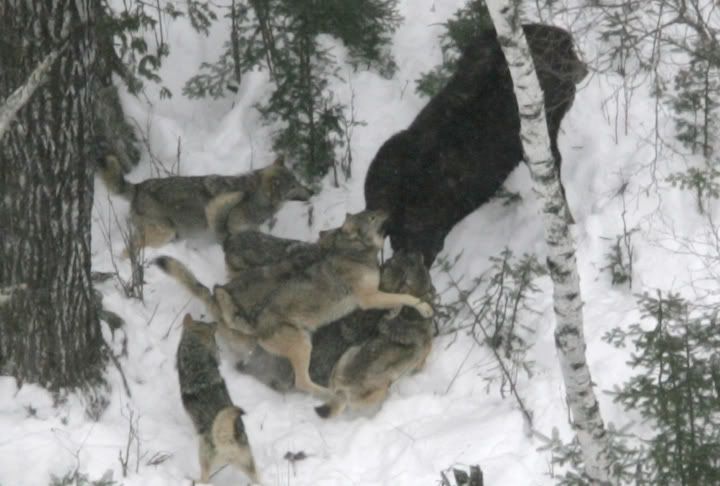 The table is set and the non-hunting members of the wolf pride join in the feast.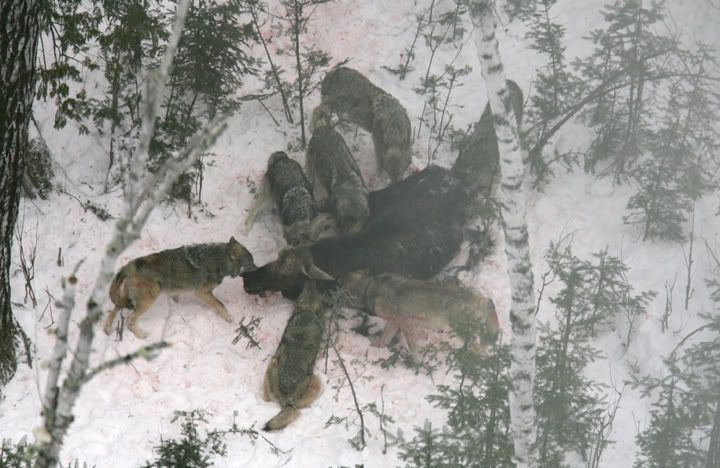 Tags:
Wolf
,
Wolf Pride
,
Wolf+Attack
,
Moose
,
Wildlife