I am not the only hunter in our family. "Artemis Graphics & Design", my wife, hunts too. Her choice of weapons are not the bow and rifle – not yet anyway – it's the camera. The tactics of hunting with a camera are very similar in that the object has to be scouted out first. From that scouting trip the right time of day to photograph the object and the frame are established. Of course, just like in real hunting, there are opportunities abound and that is one of the reasons why my wife has her camera handy at all times, be that on walks with the dog, a trip to the grocery store or working in the garden, the camera is always within reach.
The other day my wife needed the car to run some errands and drove me to work at 5:30am in the morning. On the way to the house she took a detour and drove trough the beautiful countryside. Below I show you her catch of that day.
An old hay barn near the river looks nothing special in bright daylight but right at dawn with the fog rising from the river and the surrounding delta it becomes magic.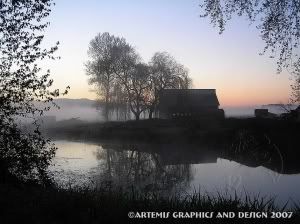 A little bunny rabbit enjoys the first tender grasses as it wearily gazes at the camera to pose for a moment before it bounces off.
Ducks and geese take their offspring for a swim. The mother goose always alert looks at the stranger while mother duck pays no mind and carries on finding food for her ducklings.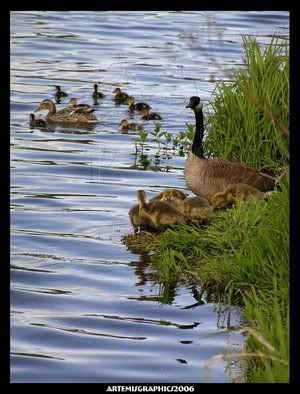 Just a few miles from our house three deer crossed the highway coming from a small woodlot and going into a plant nursery for lunch. This button buck paused just long enough for my wife to stop the car and take the picture.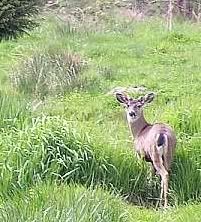 Just the other day my wife casually mentioned to me at the dinner table that she has counted her photo stock and that there are over 17,000 images on file in categories such as flowers, wildlife, domestic animals, landscapes, people, places, to mention a few plus sub-categories. Most of that photo stock is available for licensing.
Here
you can see a small selection of photos and graphic art or you can
contact
Artemis Graphic and Design for more information about her available stock photography and graphic designs.
And
here
you can read more about this talented photographer and graphic designer.
Tags:
Wildlife Photography
,
Graphic Design
,
Art
,
Landscape
,
Rabbit
,
Geese
,
Ducks
,
Deer
,
Stock Photography
,
Images
,
Photos