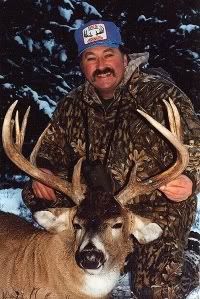 Television show host
Roger Raglin
of Coweta, Okla., and his family were injured this week when the 33-foot boat they were riding in hit a breakwall near the Cedar Point Amusement Park in Sandusky.
Raglin is the host of
Roger Raglin Outdoors
on
The Outdoor Channel
.
Raglin and his wife, Darlene, son Joshua, 18, and daughter Raquell, 20, were aboard a Fountain boat owned by fishing guide Ted Bayer of Liberty Center.
After filming a Lake Erie fishing trip on Tuesday, they were headed to Battery Park Marina in Sandusky when the accident occurred on July 20, at 10:30 p.m. Raglin's wife suffered lacerations and broken bones while their children sustained bruises and lacerations.
Also injured were John McDow of Findlay and Samuel and James Riley of Athens, W.Va.
The Ohio Division of Watercraft reported operator inattention caused the accident, with Bayer looking at gauges instead of keeping a proper lookout while driving the boat.
McDow and Samuel Riley were taken to St. Vincent's Hospital in Toledo. The others were treated at Firelands Hospital in Sandusky and released.
I wish Roger Ragling and his family a speedy recovery. Read an earlier article on this blog about Roger Raging "America's Whitetail Deer Hunter"
here >
Tags:
Roger Ragling
,
Hunting TV Show
,
Outdoor Channel