Last weekend we celebrated Labor Day. That meant three days no working. Such occasions are good times to relax from every day stress with a fishing rod in the hand on a lake or river. I am fortunate in that our home is in the middle of a great fishing area. The timing was perfect because September of each odd year marks the return of the pink salmon to the Fraser River. An estimated 20 million pinks move from the ocean into the Fraser. The pink salmon is the smallest of the salmons due to his short live span of only two years. But what this fish lacks in size it makes more than up with its aggressiveness, which makes the pink a good game fish for entry level salmon fishers.
This was my very first time going specifically after salmon but it was definitely not my last time. My wife accompanied me on the trips to the Fraser River to take pictures of the beautiful surroundings. I hooked several fish of various sizes but I also hooked my wife on fishing. Having my wife voicing an interest in fishing made the trip even more special to me and I am looking forward to head out on my next fishing trip with my new fishing partner.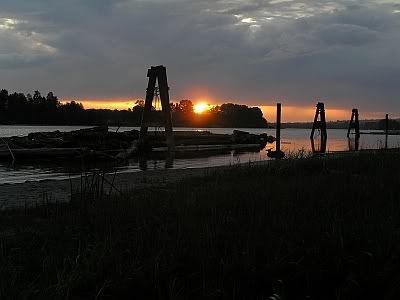 The first day we arrived right at dawn. This part of the Fraser River is tidal water. When we arrived the tide just started to come in. Pink salmon use the tides reversed current to swim upstream.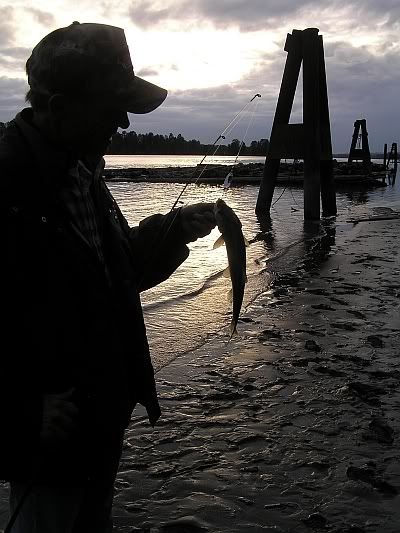 Ten minutes into the fishing and I landed my first fish. My wife to a picture against the upcoming sun creating this silhouette, I like this picture and how it turned out. In the background you can see some heavy rain clouds coming up on the horizon. About an hour later these clouds where above us and started promptly to leak. But it takes more than a little rain to scare a fisher away, especially if he has the first catch of the day in the cooler box. Where there is one fish there must be more.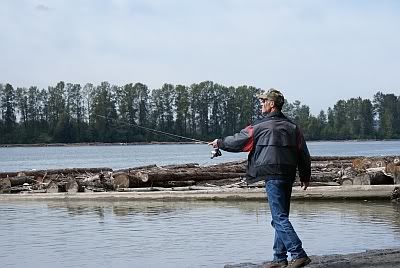 Despite a little rain I kept casting the lure as far out as I could. This one of many hundred casts in the three days of fishing frenzy.
This is the result of tireless fishing in weater that could not make its mind up what it wanted. A few minutes sunshine was followed by rain and then sunshine again. Each day I limited out and thanks to the salmon run and my efforts the freezer is half full with delicious salmon waiting to be smoked or grilled.
This particular fish is not a pink salmon. As mentioned above I am a novice to salmon fishing and my species identification has not fully developed yet. Having said that I am not 100% sure what salmon this is. It could be a small coho or a sockeye. Pink salmon have a spots on their tails and this one has none. Perhaps one of the many fishers that read my blog can tell me what kind on salmon this particular one is.
The salmon run gets right now into the full swing and I will be back on the Fraser River almost every day of next week. We only live about a ten minute drive from the tidal portion of the Fraser River and if I go right after work I can walk to my spot in five minutes.
On this trip I used the following equipment.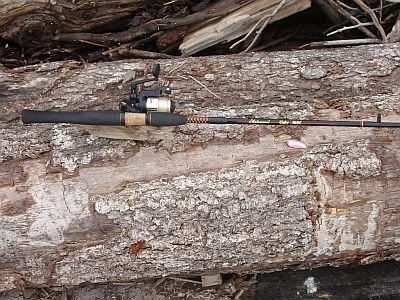 The 7' Ulgly Stick rod from
Shakespeare
with a medium action was perfect for the task. Loaded with 10 pound
Stern
transparent monofilament line made it a perfect salmon outfit.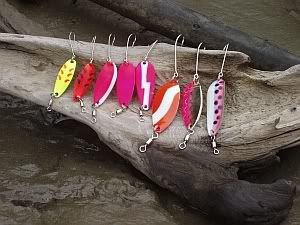 On this occasion I field tested salmon spoons from the Canadian company
Gibbs
. Salmons like the colors pink, red and chartreuse. On this trip the solid pink and pink with white worked best. But as any salmon fisher will tell you, the preference of colors can change from one body of water to the next and from one week to the next.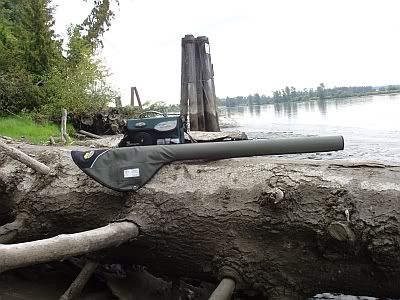 All my rods are stored and transported in one of these Guide Series rod cases from
Plano
.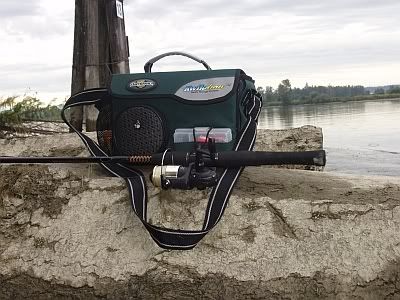 This is one of the neatest fishing tackle boxes I came across in a long time. The
Flambeau Quick Draw
box. It's small size perfect for a short trip, but don't be fooled by the size. This tackle box comes with plenty of storage space to keep all your lures and tools you need for a full day of fishing.
Tags:
Fraser River
,
Pink Salmon
,
Fishing
,
British Columbia
,
Fishing Tackle