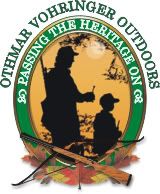 Many of the regular readers here may remember that Kristine from the
Hunt Smart. Think Safety Blog
issued some weeks ago a challenge to the founding members of the
Outdoor Bloggers Summit
. The challenge, called "Write About the Good Week", stipulates that we should pick one of the many outstanding conservation organizations and highlight them and their mission in an article on our blogs.
I am the first Outdoor Bloggers Summit member that has broken the challenge rules and instead
I highlighted the hunters as a community and the good they do for wildlife conservation
. Today I am going to break the rules again by picking one particular person that has gained my respect over the last couple of months.
Matt Corrigan is a teenager from New Jersey. What makes him special is the fact that he does not come from a hunting background and yet he became a hunter all by his own drive. But it doesn't stop there. Matt is active in the hunting community and wildlife conservation with a maturity and eagerness that would put many adults to shame. Just how serious Matt is about the continuation of our hunting heritage can be best described in the fact that I am so impressed by him that I made him the youth moderator on my
SHS Hunting Chat Forum
. I put him in charge of the "Passing the Heritage On" Forum, a place on my forum dedicated to young and novice hunters.
I have been thinking long and hard how I best could introduce Matt to you and then came an idea in my head. Why not let Matt tell his story of becoming a hunter and conservationist in his own words.
So here it is. Enjoy
Matt's Story

I first got the notion to start hunting when I was about 12 years old. I was watching ESPN for about a month or two and was watching all the hunting shows that were on Sunday morning. I came up to my parents and asked " Hey mom, dad, do you think that I could go hunting?" My parents immediately said no, at first. I collected information on the Internet on how to get started hunting and what it would take for me to get a license. Once again I went up to my parents, but this time I had prepared information for them to look over and think about. They told me " Ok we will let you take your hunter education course, but who will take you hunting?" At the time I didn't know a soul who hunted so I thought at that time I was out of luck.

It wasn't even a week when I joined the track team. I knew almost everybody from school or other events I took place in. Then I met this one kid, John, who I had no clue who he was, it turns out that his dad was the shot put coach for the track team, and they were both very avid hunters. So I got to know John very well for that track season, and at the season him and me walked out as best friends. Now it was around the middle of June and I was hanging out with him one day, I asked him "How do you get started in hunting?" he responded " well when I was 10, my dad took me to my shotgun, bow and muzzleloader hunter education courses and from there we went as often as possible." I told him that I was thinking about hunting for a long period of time. He got all excited and immediately offered to hunt with him. Since I had nobody else to go with I gladly took up his offer. Before I actually went hunting I had to pass a mandatory hunter education course for each of the three disciplines (shotgun, bow and arrow, muzzleloader/rifle).

First I took my shotgun course, which in fact was so much easier than I anticipated, and passed it with a 99% on the written test and 100% on the field course. I went hunting for a year and within that time I had my first ever hunt, which was youth waterfowl day. During that day only people under 16 are allowed to hunt, but they have to be accompanied by a licensed adult. I woke up about 5:00 am to the sound of my alarm clock blaring. I quickly jumped out of bed, put on my hunting clothes and ate a quick bowl of cheerios. I got my gun and box of steel shot waiting for me by the front door. Now John's dad drives an older model Chevy Suburban which makes quite a bit of noise while coming down a quiet road at 5:30am so you don't have to see the truck before you know its time to get out the door. We got down to the river, got the gear in the boat and got down to our spot. Now before this, I was very used to shooting one shot at clay targets as I did it often. Now I am out in a boat and its dark and I have 3 shells in my gun, every time a duck went by I would shoot once, usually miss, and that's it. John's dad would tell me " MATT! Shoot again, shoot e'm again!" and I would pump out another shell and by that time they were long gone. This went on for about 4 times. Then at 8:00am we can hear 2 geese were coming in about 10 yards just off the surface of the water, John's dad is telling us to get ready to shoot. Then all of a sudden 2 geese come flying just into our line of sight, which turns out to be 20 yards. John shoots twice and misses I do the shoot once and let em go routine I did before and again John's dad yells out " MATT! Shoot again, shoot e'm again!" so I crank out a shell of my Remington 870 express 20 ga. and shoulder the gun, Now the 2 geese are 40 yards away and turning to go back down river, I pull up, lead the behind goose about 2 ft and shoot. The goose crumples and crashes into the water due to a precisely placed shot to the head/neck area. All three of us went back to the house with smiles on our faces. I only have one story that has to just about beat out that one, It was my first turkey hunt on youth turkey day, but that story is for another time.

Now I hunt and fish with John and his father every chance that I get. They are wonderful people and I couldn't be happier than to call them my friends. Now this just goes to show you, if you really put your mind to something that you want very badly, you just might get what you have wished for.

Tags:
Hunting Heritage
,
Young Hunters
,
Becoming a Hunter
,
Write about the good Week
,
Outdoor Bloggers Summit
,
New Jersey
,
Wildlife Conservation