© By Othmar Vohringer
I received the following email from a member of the
SHS Hunting Chat Forum
.
"Build it and they will come
This is the actual turnoff from Banff to the # 1 highway to Calgary. Great picture isn't it? They had to build the animals (especially the elk) their own crossing because that was where the natural crossing was and after the highway was built there were far too many accidents. I understand it didn't take the animals long to learn that this was their road."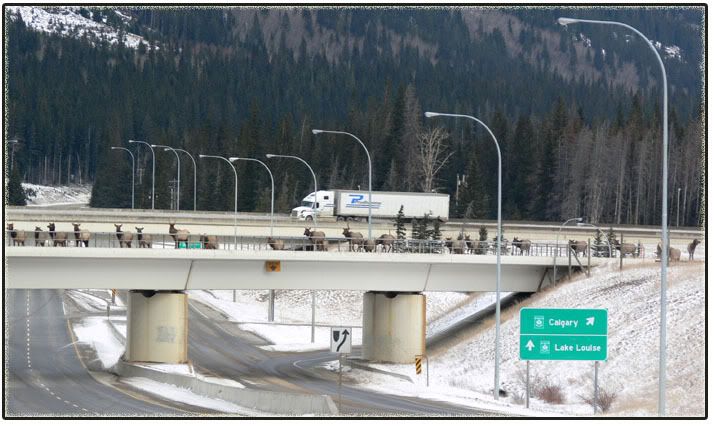 I have seen this picture many times and each time I thought that I should get to the bottom of the story, and today I finally did. Was the bridge purposely built so elk and other wildlife can safely cross the busy Trans-Canada Highway, or is it an urban myth?
According to
Parks Canada
there have been fences, gates, cattle grates and wildlife walkways set up to ensure the safety of wildlife and road users along the highway section that leads through the wildlife rich part of the
Banff National Park
. However the bridge was
not
built for the wildlife. The elk use the Canadian Pacific Railroad overpass; according to local residents the elk and other wildlife have learned to use the railroad bridge to safely cross the busy highway. How adaptive animals are is illustrated by locals who say that the wildlife not only learned to use the railroad bridge but also seem to know the times when trains approach the bridge.
Tags:
Banff National Park
,
Elk Crossing
,
Trans-Canada Highway
,
Elk Bridge