© By Othmar Vohringer
This is a short note to all my readers to say sorry that I did not update the blog as I should have. But such is life when you get a really bad cold and barely able to stand on your feet.
A particularly nasty cold bug makes its rounds here in British Columbia. This is one of the new generation bugs that are resistant to all known cold medicines. The cold manifests itself with a sore throat, joint pains and a dry (painful) cough. After about three days the cold goes away only to return a week later again hitting harder.
This can go on like that for up to six weeks, I am in the second week now. Everybody in our company has this cold. The ones that suffer less, like me, still work but at night we come home beat up. All I want is a hot shower, a meal and then hit the bed.
On Sunday afternoon I felt a little better and with the sun finally coming out we went for a short walk in the Pitt Marsh - a beautiful place and my favorite duck hunting area - near our home. Below I leave you with a picture that I took of the Pitt Marsh.
I have not grown tired of blogging but I am too tired to blog at the moment.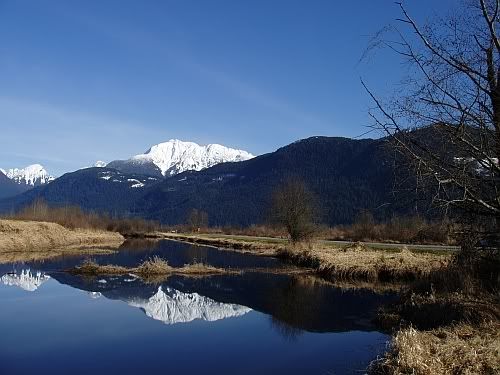 Click picture for larger view!