I created Outdoors with Othmar Vohringer almost exactly a year ago on January 29, 2006, with a review of Frank P. Baron's book "
What Fish Don't Want You to Know
". It did not take long for this blog to strike a cord with my readers. In the first month of this blog's existence 23 visitors found there way here. By August it was 185 visitors and from September onward the figures steadily climbed up to 650 visitors per month and still growing as of this writing, just a little over half of the visitors are returning visitors.
For me this is a big encouragement and I thank you all for your loyalty to Outdoors with Othmar Vohringer. This initial success encouraged me to start other blog's specialized to different segments of our rich hunting heritage. On June 2006
Whitetail Deer Passion
was launched, providing whitetail deer hunters with information and hunting tactics. Whitetail Deer Passion is currently more popular than this blog with an average of 182 visitors per day. Driven by this success
Wild Turkey Fever
was launched on July 15, 2006. As the name suggest that blog is aimed at the avid turkey hunters. Still lacking visitor numbers I am convinced that once the deer hunting season is over and hunters prepare for the spring turkey hunt Wild Turkey Fever will find its audience. My newest creation,
The Outdoor News Daily
, launched last month provides outdoor writers and the informed hunter with the daily outdoor headline news from around North America and the world.
Lets take a moment and review the year on this blog:
The Hottest Topic:

When I reported about the dumb idea of the World Hunting Association's plan for professional hunters to dart bucks inside high fenced enclosures with drugs and sell it as competitive high dollar prize money televised show I had no idea that I would unleash a storm on this blog. Thanks to the outrage from real hunters, organizations and you, my faithful readers the WHA were forced to drop their stupid plans of drugging deer as sport. Where have they gone? Haven't heard anything lately, which is good news!
Biggest Buck:

Jonathon Schmucker
of Seaman, Ohio killed a 36 pointer with his crossbow that scored 304 non-typical. Regardless of the final net score this buck will be one of the top five bucks ever killed.
Great Losses: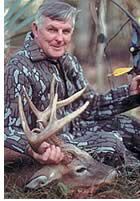 On the 5th of May, my birthday, the hunting industry lost
Bob Hice
, the inventor of the Tree-Lounge, due to complications with Parkinson's disease. Many people considered Bob to be one of the innovators of tree stand hunting. Bob Hice has been a well-respected icon amongst hunters and in the hunting industry, a man who lived his dream of the outdoors to the fullest. Rest in Peace Bob
Steve Irwin
, better known as "Crocodile Hunter" died in a dramatic accident while filming a TV program episode on Australia's Great Barrier Reef. He was full of life and possessed with all things wild, he died doing what he liked most. Rest in Peace Irwin.
Newcomers: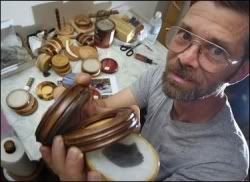 Brian Warner
, a cancer and six-bypass heart surgery survivor, is an excellent woodcarver and avid turkey hunter. He combined the two talents to produce some of the best looking and sounding turkey calls I have ever come across in my 40 plus years of hunting.
Political Correctness gone Mad:

The Portsmouth High School
refused to include a photo in the yearbook of Patrick Agin, 17. The reason. Agin belongs to the Society for Creative Anachronism and thought it would be cool to pose in medieval regalia including a heavy sword. Look at the picture and tell me if this depicts violence. No! I didn't think so either.
Hunt of A Lifetime: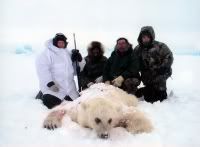 On April 16, 2006 65-year-old hunter
Jim Martell
was on the polar bear hunt of a lifetime on the southern tip of Bank Island in Canada's Northwest Territories. The bear he shot, it turned out, was no ordinary polar bear. It was a very rare hybrid between a polar and a grizzly bear.
Fishing World Record:

John T. Armstrong
of Madison, Wisconsin pulled this 57-inch muskie out of a lake near his home. The fish was recently certified by the Freshwater Hall of Fame as the Catch & Release World Record in the "unlimited" line-test category.
Neatest Product:

The
ATV Power Loader
is the quickest, safest, easiest way ever to load a deer onto an ATV. The Power Loader's lifting mechanism literally extends and lays flat on the ground, allowing the deer to be slid effortlessly into place.
The Power Loader fits most popular brands and models of ATV's and operates with the use of factory or after market winches.
Exited I look forward to a new year to inform you of more news and issues concerning our hunting and fishing heritage. I invite you to visit my other blogs on the Othmar Vohringer outdoor blog network to get the full scoop of all the information that is on offer. Here is looking forward to engage in conversation with all of you be that here on Outdoors with Othmar Vohringer or any of my other blogs and the
SHS Hunting Chat Forum
. Have a very Happy New Year with all my best wishes for you and yours.